Last week my friend Nathan Barry posted an article with 13 tips for making the switch from a consumer to a creator.
Suggestions number 3, 6, and 9 from Nathan's list especially resonated with me since these three tips in particular had to do with the focus, intentionality, and routine of creating.
I also love how Nathan states right at the beginning that in order to make this shift you don't have to become a fundamentally different person, nor do you have to make radical changes to your life. You just need to stack a handful of small changes together and let the momentum build.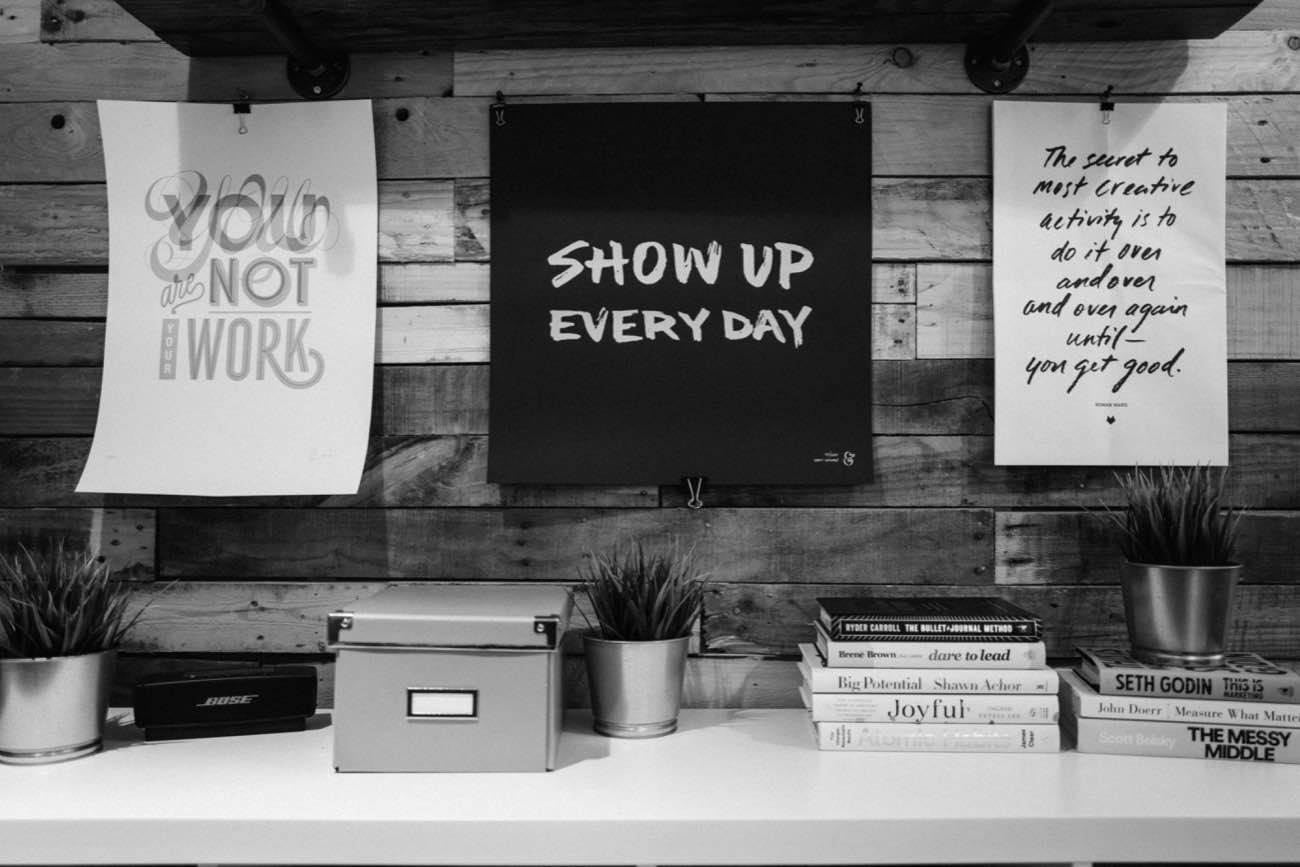 The "Show Up Every Day" print by Sean McCabe that I have hanging in my office.
As you seek to
build a creative habit
, it is professional-grade to be intentional with that time. You do this by (1) planning ahead; (2) scheduling yourself time to work; and (3) removing as many distractions as possible. This is literally what any top performer does. (I made a simple Show Up Every Day Worksheet that's at the bottom of
this article
if you're interested.)
And, not that Nathan asked, but since we're blogging here I wanted to add an additional suggestion to his already excellent list:
Be intentional about what you consume.
What I mean by this is two-fold:
Making the switch from a "consumer" to a "creator" does not mean cutting out all media consumption. (More on that in a second.)

And therefore, consider what types of media consumption leave you feeling inspired, excited, and energized versus those which leave you feeling tired or complacent.
Which types of media take from you and which types give to you?
If I spend 15 minutes mindlessly scrolling Instagram or Twitter, I do not feel inspired or recharged.
But if I spend 15 minutes reading a book or a thoughtful article that's saved in Instapaper, then my brain is usually bouncing with ideas and fresh inspiration.
Nathan's article is all about making the switch from "consumer" to "creator" but I want to underscore the fact that the right kind of consumption helps with creating.
I think this is so valuable that not only do I have a habit goal to write every, I also have a habit goal to read every day.
Moreover I just deleted the social media apps from my iPhone so that I would have less opportunity for non-productive media consumption. (Even Peter McKinnon recommends quitting social media as a way to help overcome creative block.)
In his book, First Things First, Stephen Covey writes about what he calls "Sharpening the Saw".
We often get so busy "sawing" (producing results) that we forget to "sharpen our saw" (maintain or increase our capacity to produce results in the future).
It took me a few years to to realize it was okay (even necessary) for me to take time away from "producing and creating" in order to maintain and increase my capacity to do my best creative work.
One of the ways you experience burn out is when you consitently try to create without any fresh, incoming inspiration. It's like driving a without ever stopping to fill up — evenatually you will run out of gas.
Showing up to do the work is the noble part of the endeavor. But let us not get so busy producing that we forget to maintain and increase our capacity to keep producing results.