Justin Pennington is the IT Director at a wholesale distributor headquartered in the Midwestern USA. He spends a good majority of his time developing internal web applications, though he also manages every piece of tech and software at the company. Justin is 23 and happily married to his wife, Kim.
Justin's Setup
1. What does your desk look like?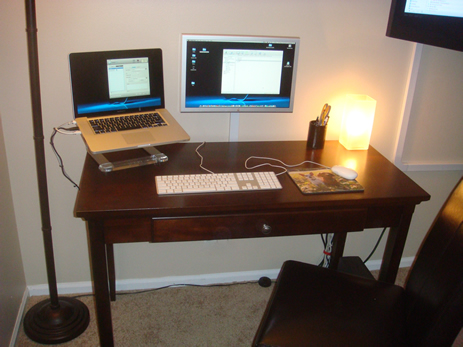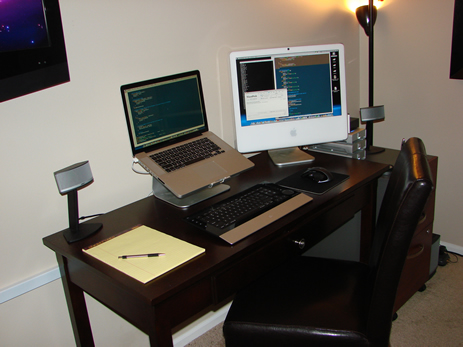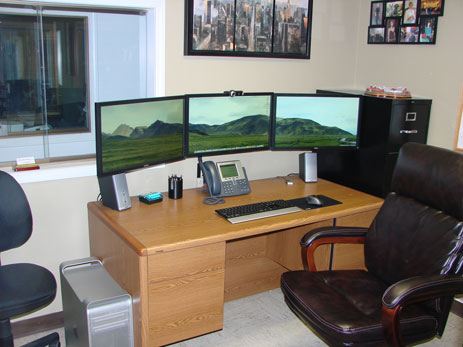 2. What is your current mac setup?
There are three different setups pictured … work, home, and a second desk at home.
My work setup has a Dual Quad-Core Nehalem Mac Pro with three 24″ Dell G2410 monitors, 12GB of RAM, 1.28TB internal disk space, 1.5TB external disk space (backup), Bose Companion 2 Speakers, Bose Quiet Comfort 3 headphones, a Logitech MX 1100 mouse, and a Fujitsu S500 document scanner.
The main home desk holds my 15″ unibody MacBook Pro (when I'm at home that is) and a 20″ Apple Cinema Display. The second desk has a 20″ white Intel iMac with three G-tech external hard drives (totaling 1.57TB), a Logitech DiNovo Edge keyboard, a Logitech MX Revolution Mouse, Bose Companion 5 speakers, and a 32″ Samsung TV connected to it for Hulu, movies, etc.
3. Why are you using this setup?
My work setup is about two months old at the time of writing. It was a gift from my boss for my two year-anniversary at this company. I develop web applications to extend our windows only ERP which means I need a Windows XP virtual machine running the ERP client and SQL Management Studio and a Server 2003 virtual machine running development databases. The screens are perfect for me as I'm most concerned with resolution and not accurate color.
My home setup is used for those late-night coding sessions to meet a deadline and some freelance projects. The desk with the cinema display is perfect for me as I prefer to work from my laptop at home and it allows me to just plug in and get the benefits of a desktop without having to transfer files over, get MAMP going, etc. The second desk is used mainly just to keep iTunes up all the time (see other Mac gear section for an explanation) and occasionally for my wife or I just to get on the internet real quick when our laptops are downstairs or in the car. She will usually use whatever desk I'm not at if she is on the computer while I'm in there (thus the reason for two desks instead of one big one).
4. What software do you use on a daily basis, and for what do you use it?
Dropbox – This made the top of the list because it is the best syncing utility on the market. Changes to your files are instantly synchronized across all of your connected computers on any platform (Mac, Linux, or Windows). This is critical for anyone with multiple computers. It is free for up to 2GB or $100/year for 50GB. (I'm not affiliated with them, just love their service)
Evernote – This is similar to Dropbox, but for notes. It instantly syncs across computers and handhelds. I can take notes in a meeting on my laptop and then just close my laptop and they are instantly available on my desktop when I get back to my office.
Mail – This is pretty self explanatory. I used to have the GrowlMail extension for this but it broke with Snow Leopard and I haven't checked for an update since.
iTunes – I listen to music throughout the day, some on Sirius some from my library.
Safari – This is my web-browser of choice for everything but the initial testing of web applications I develop.
Firefox (w/ Firebug & Web Developer) – Firebug is a fantastic javascript debugger, and web developer allows you to see the HTML generated after the page load (injected with AJAX, etc.). I use Prism for the web-app platform for my users so I test early versions of the web-apps in Firefox (prism is based off firefox) so that I can be sure I have a working version first and then take care of the cross browser idiosyncrasies that pop up later.
Adium – Connected to my internal Jabber server, AIM, and MSN. To be honest though, lately I have been using iChat for AIM as file transfers seem more reliable in it and I haven't taken the time to figure out what is wrong with Adium.
Things – This is the best task manager I have yet to find. It has WiFi syncing with iPhone and I sync the database up over Dropbox. The latter isn't perfect but as long as I remember to only have one copy open at a time it works great (which is fine for me as I typically only need Things on my laptop when out of town).
Textmate – Best editor out there, hands down. I used to use Coda but recently switched to Textmate, CSSEdit, and Firefox/Firebug after I realized I was just using code/css editor in Coda and everything else outside of it.
CSSEdit – My favorite CSS editor.
Parallels – I have to run XP and Server 2003 and after several VMware / Parallels comparisons Parallels came out on top.
Apple Remote Desktop – It is a little more versatile than the basic screen sharing tool plus allows me to add normal VNC clients to the list.
Microsoft Remote Desktop – Used for server administration, all the servers at my primary job run Windows so this is critical.
Toast – Burning CDs and DVDs, however I don't do too much of this anymore. The only time is to give a copy of a finished product to someone or to burn a lot of data that would be too large to efficiently send over the internet (15GB+).
Transmission – Favorite BT client.
Transmit – Favorite FTP client, offers MobileMe sync which is pretty convenient.
Visual Hub – They stopped development on this program and it will eventually become obsolete but it is still the best media convertor in my opinion.
VLC – Plays just about anything you throw at it.
Tweetie – My favorite Twitter app.
Terminal – Doing normal linux server administration stuff for freelance projects.
Pages – Better than MS Word.
Excel – Better than Numbers.
Fireworks / Photoshop – I switch between the two for image editing and layouts.
Pulsar – Excellent Sirius/XM internet radio tool. The web version at sirius.com (aside from having Snow Leopard problems) would prompt for a password each time, ask every hour if I was still listening, and had a very outdated interface. Pulsar is perfect, click the station, it plays, and that's it (that is all it should do).
Balsamiq Mockups – I use this for quick web-app and web-site mockups. It has a lot of great built-in shapes and the sketch looking results promotes people to make changes in the initial design meeting (vs. 90% through development or during implementation).
Teleport – Great mac port/frontend of Synergy (and updated for Snow Leopard) that allows me to use one mouse/keyboard for multiple macs. This is most beneficial with my laptop on my desk, I can just move the mouse from the desktop to the laptop like it was just another monitor.
Fever – This is fantastic, self-hosted RSS aggregator that I actually found out about from another setup on this site. I use Fluid to keep this as a separate application in my dock.
Adobe ConnectNow – This is a great tool for online meeting. I checked out other alternatives like DimDim but found that ConnectNow was the easier for the participants and myself.
5. Do you own any other Mac gear?
My wife and I both have iPhones, her's a 3G and mine a 3G S. Also, my wife has a 13″ unibody MacBook.
I have a 1TB Time Capsule for wireless backups. The Time Capsule and Airport Extremes are fantastic wireless routers as they have dual band G and N plus guest networking built in. They lack some of the options and flexibility offered by some others but when I'm at home the last thing I want to worry is tweaking a router for QoS, etc. … I spend enough time doing that at work.
We have four Airport Expresses and two Apple TVs that I have picked up over the years. The Airport Expresses are solely used for airtunes (and one as a bridge for a wired printer). With Apple's remote iPhone app we can be in any room and play any music from the iMac library (which is why it is always on) to any main room in the house (living room, kitchen, my room (office), wife's room (scrapbooking), or master bedroom) with the flick of a finger.
6. Do you have any future upgrades planned?
I would like to get a 24″ LED Cinema Display to replace the 20″ Cinema display at home. That being said it isn't a priority since I try not to work too much from home and I already have the 20″.
I would like to get a Macbook Air again. I bought the first generation one on launch day and it was so horrifically slow for what I did it just sat around until I eventually sold it. I have read the new model is significantly better and want to try it out again. My job entails that I always have a computer with me when I travel (granted, I wouldn't travel without a computer anyway) and sometimes the MacBook Pro is a bit of a bear to lug around when the only thing I plan on using it for is to check email and post some pictures. If Apple releases a tablet I will certainly get one of those.
I'd really like to pick up a pair of the Dr. Dre Beats (studio) headphones, they sound fantastic. I need to find out if they have a rechargeable battery though. My Bose ones do and there is no worse feeling than getting a dead battery mid-day because I forgot to charge them all week. I would gladly go through a AAA every week or two not to have to worry about recharging the battery every couple days (and not having to bring the recharger with me when I travel).
More Sweet Setups
Justin's setup is just one in a series of sweet Mac Setups.