Julian Schrader is the head of one-man-plus-partners web agency Schrader.io Design & Development based in Würzburg, Germany. Besides managing client projects and writing Ruby on Rails, XHTML and CSS, he's currently studying for a Bachelor of Science in Business Informatics at the University of Würzburg.
Julian's Setup:
What does your desk look like?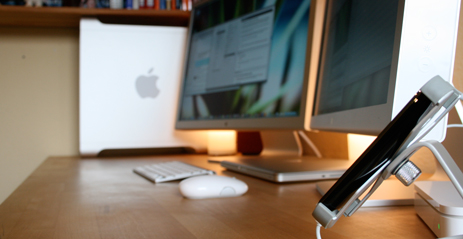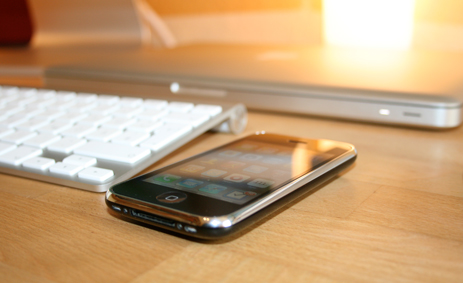 2. What is your current Mac setup?
A 2 × 3.0 GHz Quad-Core Intel Xeon (8-core) Mac Pro, with 6GB of RAM. Unfortunately still with the slow hard drive Apple Refurb put into it, so speed-wise there's still a bottleneck to bust. To control this machine, I'm using a wireless Apple Keyboard and also a bluetooth Mighty Mouse, which unfortunately sometimes needs a special treatment.
Thanks to eBay, I recently added a second screen to my setup, totaling 2 × 30″ Apple Cinema HD Displays connected to the Mac Pro.
For my audio needs, I'm still using my old Sony stereo—its speakers hide behind the displays, iTunes DJ is shuffling through nearly all genres all day.
Unfortunately this setup isn't worth anything on-the-go: When I'm working outside or at the university, I rely on my 15″ Unibody MacBook Pro (2.4 GHz Intel Core 2 Duo, 4GB of RAM) and, of course, on my 32GB iPhone 3GS.
3. Why are you using this setup?
Throughout the day, I'm switching between various setups depending on the task at hand. Whether that means "communication", "coding" or "designing", I always need to have multiple applications (and windows) open.
As Shawn put it: I'm "a dude with over 8 million pixels worth of screen real estate" (8.192.000 pixels to be precise), and I found large screens to be way more efficient than constantly switching between Leopard's Spaces, as I did before.
And the MacBook Pro—well, easy: My iPhone can do a lot, but I need a real computer for lectures and the cafeteria, and it's great to leave the desk for the garden every now and then.
4. What software do you use on a daily basis, and for what do you use it?
Things combined with Things Touch on my iPhone — a killer task management setup for me. Everything goes into Things.
Safari — browser of choice.
DropBox — all my projects live in folders synced with DropBox. This ensures that all my data on the MacBook Pro is automagically up-to-date and everything I do at the university is reflected on my Mac Pro.
iCal — All lectures and appointments go here. Thanks to MobileMe, this is always in sync on my machines and my iPhone always knows where I have to go next.
mite. — I'm a web guy, so my time tracking lives on the web. DynaMite on the Macs, web interface on my iPhone.
Mail — can't get used to GMail. My Google Apps account lives in Mail.
iTunes — I'm constantly listenin', told ya.
Aurora — wakes me up in the morning.
Skype — constantly in use with my most regular customer.
Fever — Shaun Inman's feedreader immediately knocked out NetNewsWire for me.
TextMate — I do all my coding with it, sometimes even CSS.
CSSEdit — Explains itself.
Terminal — Ruby on Rails and server administration via SSH doesn't work without it.
GitX — for version control. I version control everything. If it's not in git, it's at least in TimeMachine.
Transmit — for good ol' (S)FTP and Amazon S3.
Adobe Photoshop & Illustrator (both CS3) — to edit pictures, and to check out what the designers did for me.
Numbers, Pages & Keynote — for my office needs and presentations. So much happier with the iWork suite than with Office (which happens to get dusty on my HD).
5. Do you own any other Mac gear?
In the right corner of my desk I have a 1TB Time Capsule to connect me to our WiFi and for backing up with TimeMachine.
Mobile devices:
A 32GB iPhone 3GS, with me all the time.
An 8GB iPhone, which is used by my girlfriend.
I used to own a 60GB iPod 5G (hidden in my desk's drawer, never used again since my first iPhone).
6. Do you have any future upgrades planned?
Nope. Just updated from an iPhone 3G to the 3GS, everything else is fine for now. Well, maybe a faster hard disk for the Mac Pro?
More Sweet Setups
Julian's setup is just one in a series of Sweet Mac Setups.