David Appleyard is a freelance designer and blogger based in Manchester, UK. He is the editor of AppStorm, and manages various design-related sites including Design Shack.
David's Setup:
1. What does your desk look like?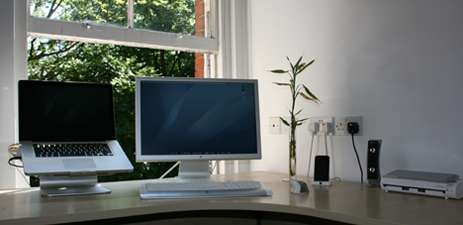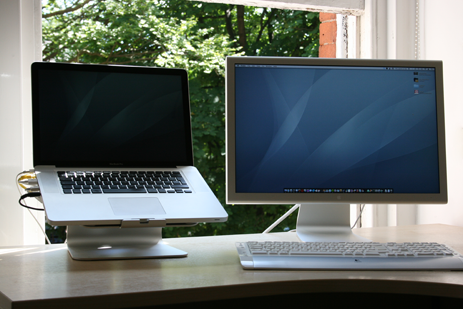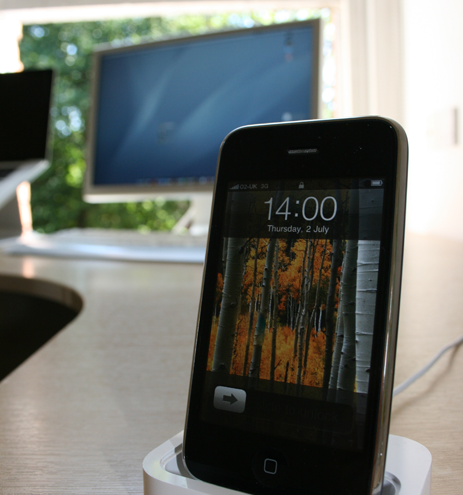 2. What is your current Mac setup?
A 2.66GHz Intel Core 2 Duo MacBook Pro, with 4GB of RAM. It sits upon a Rain Design mStand which, whilst not the most versatile laptop stand, looks stunning.
I use a 23″ Apple Cinema Display as my primary monitor, along with a Logitech S530 Laser keyboard and mouse. I still rely on a 6 year old set of Altec Lansing 2100 speakers that work flawlessly.
In recent months I have come to love my ScanSnap S300M, a tiny duplex scanner capable of providing a completely paper-free office environment.
3. Why are you using this setup?
I have found that portable Macs offer all the power I require in a far more useful form factor than a desktop. Since purchasing a first generation MacBook I haven't looked back. Coupling my notebook with a large monitor feels natural and works wonders for productivity.
The original reason I made the move to OS X was for the wonderful user interface. It shunned the brash colours of Windows and appealed to the designer in me. After a few months I began to fall in love with all the other benefits of the platform.
4. What software do you use on a daily basis, and for what do you use it?
I use all of the following on a very regular basis:
Mail – I remain reluctant of moving to a web-based system, and enjoy the simplicity offered by Mail.
Safari – One of the reasons I originally switched to OS X, and still the fastest browser available for the platform.
Things – For organizing my life and scheduling tasks to remember in the future. A fantastic user interface.
NetNewsWire – Great iPhone synchronization makes this my go-to choice for RSS. I'm also experimenting with Fever.
Tweetie – Having swapped between various Twitter clients, I've settled on Tweetie for now.
DevonThink Pro Office – For maintaining the aforementioned paperless office. It offers incredible OCR for scanned and imported PDF documents.
Spotify – Being in one of the supported countries, I'm a huge fan of the free streaming music service on offer.
Pixelmator – For remarkably fast image editing. Not as powerful as Photoshop, but I find myself using it far more often.
iWork 09 – I completely stepped away from Microsoft Office earlier this year. Pages and Numbers are perfect for my needs.
Transmit – Still my FTP client of choice, though I also use ExpanDrive from time to time.
TextMate – For coding and basic text editing.
Querious – Makes working with MySQL databases enjoyable — no mean feat!
5. Do you own any other Mac gear?
I own a 1TB Time Capsule to act as a router and external hard drive for media, along with a 1TB Lacie d2 that mirrors my Time Capsule once a week.
An original MacBook (black) serves as a second machine if my MacBook Pro ever encounters a technical problem or surreptitious burglar.
I also own a few iPhones/iPods:
A 16GB iPhone 3G, with me at all times.
An 8GB iPhone now commandeered by my significant other.
A 3rd generation iPod shuffle for running. Rarely used.
An Apple TV sits in my lounge, though slightly sub-par WiFi reception makes it somewhat of a hassle to use regularly. Plans are in place to run an ethernet cable, but it's no easy task.
6. Do you have any future upgrades planned?
I'm thoroughly content with my current Mac setup, though would likely purchase a 30″ LED Cinema Display if Apple ever get around to producing one. I'm also a big fan of the MacBook Pro keyboard, and will pick up a Wireless Apple Keyboard to replace my Logitech at some point in the near future.
More Sweet Setups
David's setup is just one in a series of Sweet Mac Setups.