Kicking off the Sweet Mac Setup series is Mark Jardine. Mark is the painfully talented designer for the indie iPhone software company, Tapbots.
This post marks the first in what will soon become a long and glorious tradition of posts, geeking out over how other people set up their workspace and what software and hardware they use.
Mark's Setup:
1. What does your desk look like?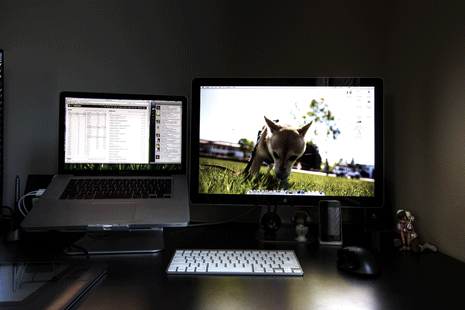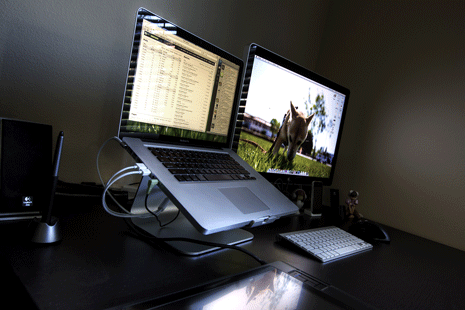 2. What is your current Mac setup?
15″ 2.8ghz Unibody Macbook Pro (with a 500gb 7200rpm HD)
24″ Apple LED Cinema Display
Apple Aluminum Bluetooth Keyboard
Logitech MX 1000 Mouse (I love the mighty mouse, but after going through 4 of them with broken scroll balls, it's just time to move on)
Related Gear:
Wacom Cintiq 12wx (really only use it for drawing)
FW800 Drobo (for archiving older data)
1TB Dualband Time Capsule (daily backups of all the macs in the house)
Logitech Z-2300 THX 2.1 Speakers
Canon Pixma Pro 9000 Printer (for printing some of my photos)
Colorvision Spyder 2 Pro (monitor calibration tool)
3. Why are you using this setup?
Laptop: For the longest time, I've had a desktop computer as my workhorse and a laptop for portability. Keeping data in sync was always the biggest problem. Where do you keep your iTunes and iPhoto Library? .Mac Sync and Drop Box helped, but it was still a pain. With the specs on my current laptop, I don't really need a desktop anymore. There's plenty of power and space to do whatever needs to be done. There are rare occasions when more ram or an 8-core processor system would be nice, but having a second computer isn't quite worth the headache or money to me. Nothing beats being able to just unplug my laptop from my desk, throw it in my bag, and continue working at a coffee shop.
LED Display: The main reason I moved to this display is because of it's integration with the unibody macbooks. The built-in display port and mag-safe adapters are extremely convenient for me. I used to hate glossy displays and they can be annoying when there's a bright light source behind you, but I've learned to love the new LED cinema displays.
4. What software do you use on a daily basis, and for what do you use it?
I use Safari, Mail, iChat, iTunes and iCal daily, but I'm sure most people do as well so I won't say more than that. Here are some other apps I have running almost everyday:
5. Do you own any other Mac gear?
iPhone 3G (my daily device)
iPod Touch (for testing apps on future OS builds)
120gb iPod Classic (for the car)
Apple TV
6. Do you have any future upgrades planned?
I usually replace my computer every 1-2 years depending on how significant the update is. However laptops these days are pretty powerful for 95% of the work I need to do. I've been really happy with mine, especially after upgrading to the 500gb hard drive. More ram (4gb is not enough for all the apps I like to run concurrently) and a beefier GPU (better performance in Aperture) would be nice, but I'm not complaining. So my answer is no, I don't have any plans to upgrade at the moment.
More Sweet Setups
Mark's setup is just one in a series of Sweet Mac Setups.