If you're subscribed to .Mac it's because you use two computers. That, or you already own one of every iPod and still want to give Apple your money.
Right now, the only hook for .Mac is the syncer.
The email and iDisk are great and offer some advantages to those without access to IMAP through another email client. But at the end of the day the only reason you're coughing up $99.95 every year is to keep those two Macs synced.
.Mac does offer a great syncing service to its users, but it could be so much better. It's price tag is a bit over the top for it's meager offerings.
Therefore I've taken the liberty to come up with a few additions that I think will help the .Mac service fulfill much more of its potential and entice many more subscribers.
Intelligent File and Folder Syncing
The same way you are able to catalog folders for indexing within Quicksilver, you could catalog folders for .Mac. Simply selecting the folders you want to stay synced between computers.
This way, those documents that I write and edit and add to on a regular basis could be set to 'smart update' via the .Mac server. If I don't have the time or fast enough internet connection to sync the files I can just un-check it from the .Mac sync preferences pane.
Convenient Session Syncing
If I am on Safari with my PowerBook while away from my office, and I don't finish what was doing on the web I can't just pick up where I left off when I sit down at my Mac Pro. This leaves me with the following alternatives:
Don't sit down at the Mac Pro. Instead, finish what I was doing on the PowerBook.
Bookmark the open sites, sync, sync, open the bookmarks on Mac Pro, delete the bookmarks, sync again.
Email the URLs to myself
A great .Mac solution could be an option in the History menu that said Save This Session and then Resume Remote Session.
Combining File and Session Syncing
Using the Smart File Sync with the Session Sync we could save an entire desktop workflow including programs and files. Aside from the time it may take to upload and then download saved files, it would really be ideal for someone who works on two desktop computers in different locations.
Over-the-Air iPhone Syncing
The fact you have to plug in the iPhone to sync it is a little bizarre to me. On the fly .Mac syncing from anywhere should be a staple feature. Having your calendar, contacts and other info pushed to your iPhone would be even better.
iTunes Podcast Syncing
When I subscribe to a podcast from my Mac Pro, why not let it sync to iTunes on my PowerBook. And vice versa.
Additionally .Mac could keep the podcast directory identical by deleting, marking as viewed, etc. The same way it does with events and calendars in iCal.
Here's a mockup of the new .Mac preferences pane.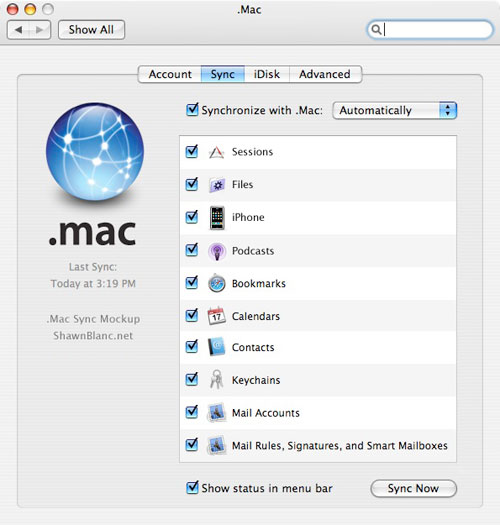 And lastly, in addition to the above syncing options, I have one final improvement to beef up the .Mac service and make you a hero all in one fell swoop.
Remote Access
Has this ever happened to you?
You're working on something important and finish just before you leave town. Then while out of town (and away from your primary designing computer) you get a call saying something like "One last edit." But you don't have the files on your laptop. They're at home. On the Mac Pro.
If you had easy and speedy remote access via .Mac with native OS X integration you could log in to your home office, get that file, download it onto your laptop, make the edit, save the day and become mayor.
"How did he do it?" They would ask all over at the office. It would be spectacular–you would be a hero. (And yes, I know this is expected to be integrated with Leopard. I just like stories where the good guy wins and becomes a hero.)