Margin is the space between our load and our limit.
It's the breathing room between that which we are capable of and that which we are responsible for.
In short, it looks like this: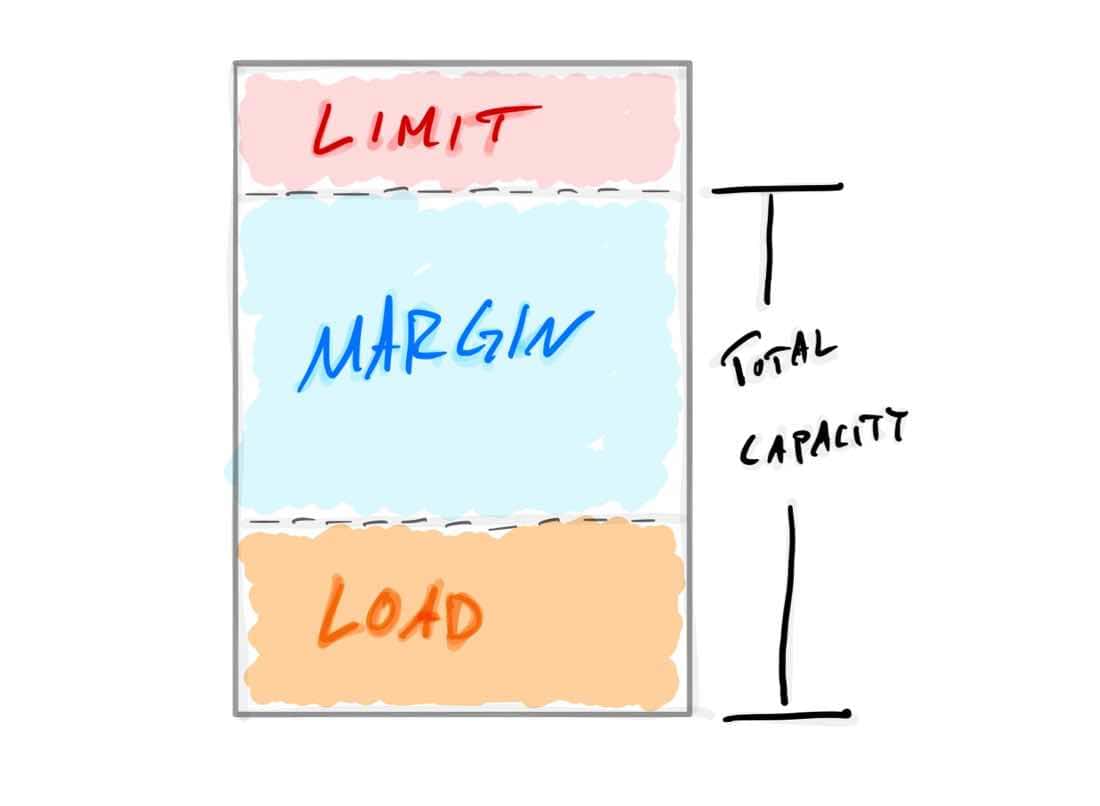 Your total capacity, in any area of life, is the combination of your total load plus your total margin.
If you have no margin in an area of your life, then you are at your max and operating at capacity. Which is bad news bears and a recipe for burnout.
Looking at the drawing, you can see that in order to increase the Margin in your life — the space between the top and the bottom — there are only two options:
Increase your limit.
Decrease your load.
Increasing your limit means expanding what you are capable of. Decreasing your load means reducing what you are responsible for.
If you do nothing then your margin will slowly fade away. Why? Because that's how life works.
If you do nothing then over time your load will naturally expand and your limit will naturally diminish. Thus, eating up your margin.
And so, in order to restore and maintain your margin, you can focus on increasing your limit or decreasing your load. Or! Both!
It looks like this: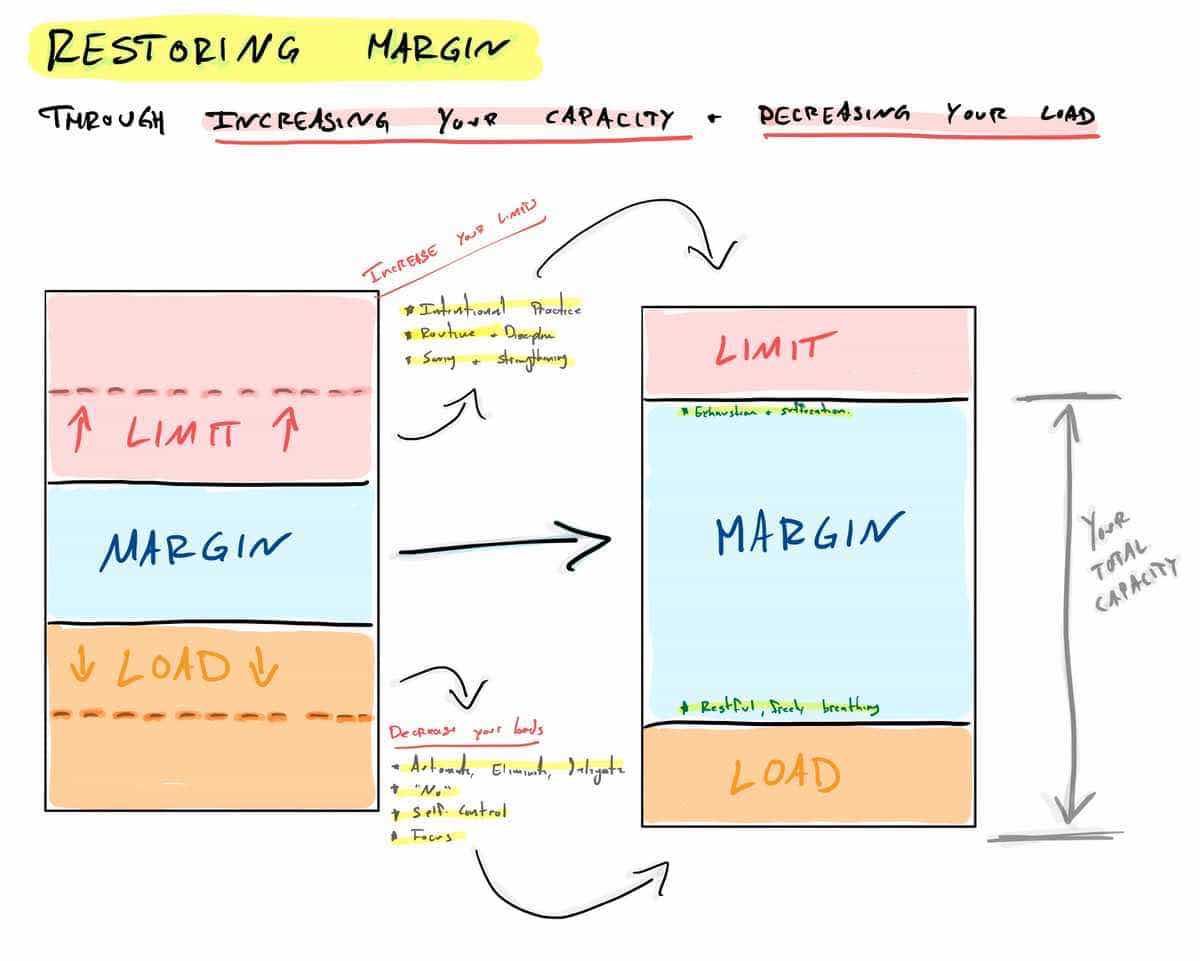 As you can see, there are a few ways you can increase your limit as well as decrease your load. Both of which improve your margin.
You'll probably want to use different approaches for different areas of margin you are trying to increase.
For example, if you want to restore some financial margin through increasing your limit, you need to earn more money. That will increase your spending power, and, boom, you'll have more financial margin. (Unless, of course, you take on more financial responsibilities at the same time… a.k.a. golden handcuffs.)
Or, if you want to restore physical margin through increasing your limit, you simply need to do things that will give you more physical energy. Such as exercise, eating smart, staying hydrated, and consistently getting a full night sleep.
And did you know that you can increase your creative limit through focus and deep work? Yep! By having regular times of focused work — being in the "zone" —then you will increase your mental capacity and strength.
---
You have five areas of margin that matter in your life.
We all do. They are:
Physical
Time
Financial
Emotional
Mental
Only one of them has a hard and unmovable limit in terms of our ability being to increase it. Do you know which one?
. . . . . .
Your time.
You will never be able to increase the amount of time you have available to you in the day. It's a hard limit of 24 hours.
But good news! You can also restore margin to your life by decreasing your load. Reduce the things you are responsible for and you will be able to get back some margin.
Make more time in your schedule by saying no to certain tasks and responsibilities. Then, use that reclaimed time on other things that matter more to you. Which may include sleep and rest.
You can also reclaim time in your schedule by improving your focus and productivity. If a task takes you twice as long as it should because your not focused, then get your act together and overcome those distractions and diversions.
Financially, just about everyone knows that you can reclaim margin by cutting back on spending. Eliminate an expense and right away you have a more money in your pocket!
I love what Herbert Simon said: A wealth of information creates a poverty of attention.
You can restore emotional and mental margin by cutting back on novel stimuli. (Something we unpack quite a bit within the Margin Course.)
Stop cramming in more stuff. Let your life have breathing room.
Over the decades, we have gotten ever more productive at doing work. What used to take 40 hours, now can be done in 10 or 20. And so we piled on more work to our 40-hour week. And then we were able to compress that into less time. And so we added more.
These days it feels as if we are cramming 80 hours worth of work into a 50-hour week. Why? What's the rush?
This is something Cal Newport and I discussed in a conversation about the three waves of productivity.
Productivity over the years has gone from a focus on efficiency, to a focus on intentionality, to, now, a focus on meaning.
These three waves serve one another. You need all three to get the true benefits. But it's not until you get to the third wave that you start to see all the benefits. Where you're able to be efficient with your time, intentional with what you are focusing on, and then clear about what your values are.
But you will never get there without margin.
Without any breathing room, you'll be stuck fighting for efficiency. With little to no breathing room to focus on what truly matters.
And this is the sad irony. For many folks, their pursuit of meaningful work and a meaningful life is what led them to sacrifice margin in the first place.
Which means you must value breathing room in your life so you can embrace it, and use it to your advantage…
As I said earlier, to fight for margin is to fight for your values.
---
By the way…
The Margin Course is Available Now
Get access to 19, on-demand video lessons that share everything you need to know about why Margin matters so much, how you can reclaim it in your life, and how you can keep it (because that's the real struggle, tbh).