Speaking of [very simple shortcuts](https://shawnblanc.net/2019/01/my-travel-packing-list-shortcut/), the latest update to Adobe Lightroom CC now has support for the Shortcuts app. It's not *much* support, but it's exactly what I wanted for my iPad photography workflow.
Basically the only option you have is that you can import photos into Lightroom and apply a filter to those photos if you want.
This is perfect for me because [my iPad photography workflow](https://thesweetsetup.com/my-ipad-photography-workflow/) is already such that I import photos from my [Leica Q](https://shawnblanc.net/category/leica/) onto the iPad Photos app, and then I cull my list from there. Then, what I used to do was open up the Lightroom app and import photos. But being able to select a group of photos right within the iOS Photos app and can send those photos directly to Lightroom is much easier and more intuitive for me.
So I created a shortcut that lets me do exactly that: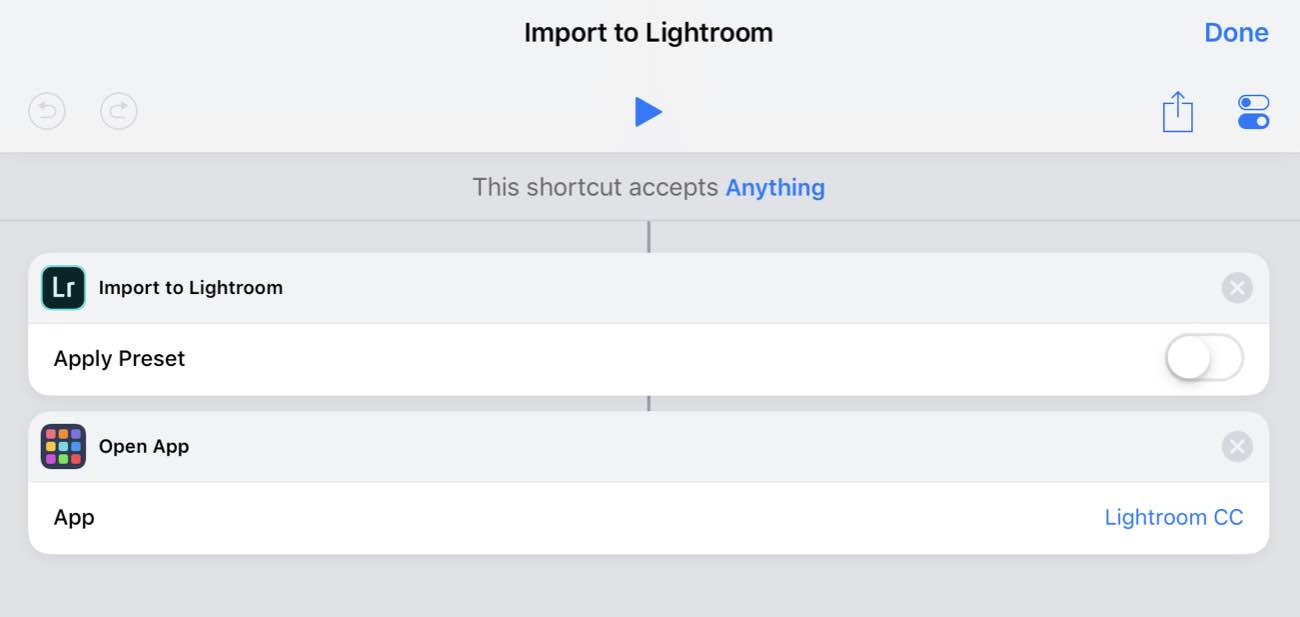 How I use it that I first select one or more photos, then I tap the iOS Share sheet, I tap the Shortcuts and select my Send to Lightroom shortcut. The photos are then sent to Lightroom and the app is opened up for me to begin editing.
**[Download the Shortcut here.](https://www.icloud.com/shortcuts/af50bce5546f4d8fb5ff64a6619f96b6)**
*Note: You could also create a shortcut that automatically grabs all the photos from a recent import, or from a specific album or something. But since I don't do my photo culling inside Lightroom, I prefer to choose the specific images I want to send into Lightroom for editing.*