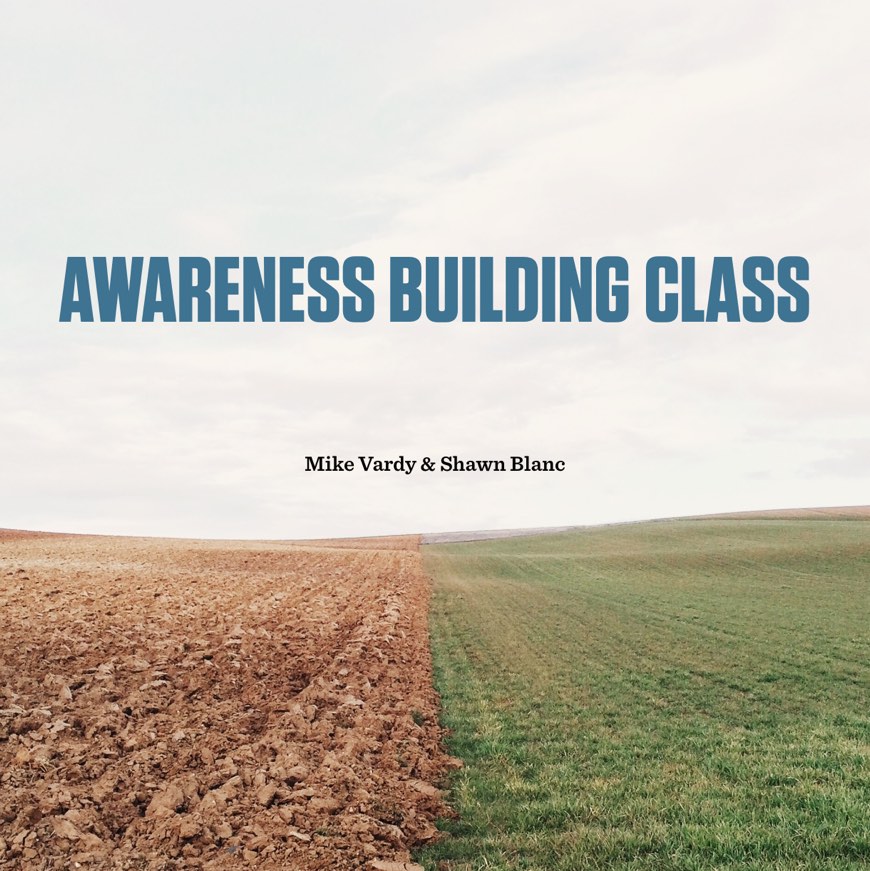 My friend Mike Vardy and I just released a new product we've been working on for the past several weeks: The Awareness Building Class
In short, The Awareness Building Class is a 5-part series of audio teachings filled with real-life stories and actionable advice to help you stop guessing and start going.
Mike and I designed the class to go hand-in-hand with The Focus Course. All 5 of the Class modules fit in line with the key themes of The Focus Course, such as clarity, action, integrity, productivity, and meaning.
Listening to the Awareness Building Class and going through its workbook will complement the work you do in The Focus Course by giving you an additional layer of context and real-life examples from Mike and I related to the content and the assignments found within the Focus Course.
The Awareness Building Class includes
5 Audio sessions (each between 30–45 minutes) on the topics of Clarity, Confidence, Integrity, Self-Awareness, and Harmony.
A PDF workbook for each session with highlights, key takeaways, and action items.
Professionally edited transcriptions of all the audio.
The Class Topics
Clarity: What it is, how it relates to your work, your personal life, your hobbies, your time, your finances, and more.
Confidence: How Confidence relates to productivity, why it's critical for doing your best work, how a lack of confidence is a form of Resistance, and more.
Integrity: A personal favorite, for this session we discuss Integrity's vital role related to motivation and procrastination.
Self-Awareness: Self-Awareness is about understanding our Vision, Values, Most important relationships, Priorities, Goals (the why behind them), our Capacity, and our Default behaviors.
Harmony: Re-defining the idea of "work/life balance" and bringing all the areas of our life together into something where the sum is greater than the individual parts.
* * *
Because the Awareness Building Class has been designed to go hand-in-hand with The Focus Course, the class is available for FREE to everyone who signs up for The Focus Course between now and October 26. (Afterward, the class will only be available as a $79 stand-alone product.)
P.S. For those of you who are already Focus Course members: check your email. I believe in treating new customers and past customers equally awesome-ly. So everyone who is already a Focus Course member gets the class for free as well.