This past Christmas two family heirlooms were passed on to me. One is an antique typewriter and is in excellent condition. The other — a very old busted-up shotgun — is in horrible condition; it has duct tape all around the stock and is desperately trying to hold itself together.
The typewriter is a Royal Arrow, portable.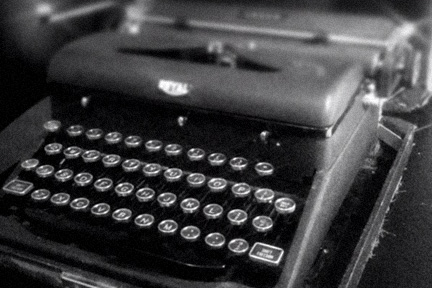 My great grandpa and grandma ("Benny" and Ethel) bought this typewriter for my grandfather in 1947. He used it for at least 20 years. He took it to Scout Camp with him that first summer, and his father gave him strict instructions not to let anyone else use it. That was hard, because my Grandpa loves to share; but he obeyed his father's wishes. Later, when he was a traveling missionary he took it with him, and while waiting for the bus or train he would set his trumpet case on end to serve as a desk for the typewriter as he would write his correspondences.
My mother taught herself to type on it at about age nine, and used it extensively throughout high school and college.
After doing a bit of research I discovered that this Royal Arrow portable was most likely made in 1941. Ernest Hemingway was a fan of Royal typewriters, and he even used one of these exact same models. The typewriter is worth around $300.
The 12 gauge shotgun is from the other side of the family. It belonged to my dad's dad and was his first gun. He mostly used it to shoot ducks and geese and what not, until he got a rifle for elk hunting. (My grandfather would travel to Canada for elk hunting every winter even into his 80s.)
Based on the name stamped into the barrel — "J. Stevens Arms & Tool Co." — the shotgun was manufactured sometime between 1886 and 1916. A J. Stevens Co. has changed their name several times, which means you have a pretty good guess at how old your gun is based on what's stamped into the side. This thing is probably worth $10… As if I would ever, ever sell it.