Stephen Hackett gets paid to be a nerd. He's the service manager at an Apple-Authorized Service Provider right outside of Memphis, Tenn. When not healing Macs, he takes a photo a day as part of an on-going art project, babbles away on Twitter, writes on his blog about Macs, design, and journalism, and chills with his wife and their 11-month old son. The most important thing you need to know about Stephen is that he has a dogcow tattoo.
Stephen's Setup:
1. What does your desk look like?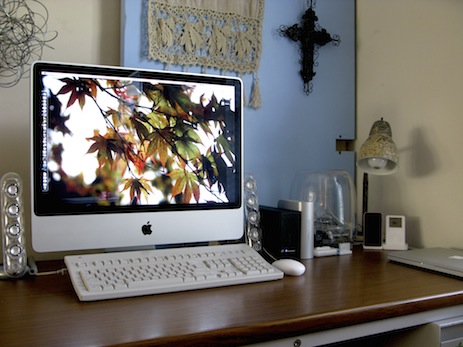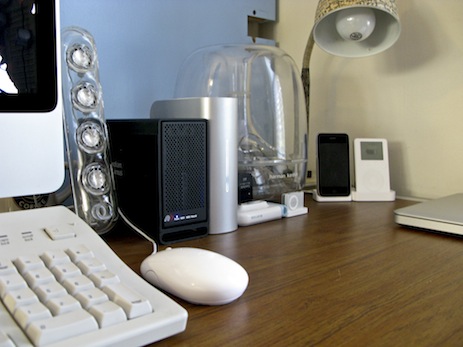 2. What is your current Mac setup?
For my day job, I carry a 13-inch MacBook Pro, which is pretty much the perfect notebook. It's small, light and very powerful.
At home, I use a 24-inch iMac powered by a 2.93Ghz processor and 4 GB of RAM.
To house my massive iTunes and Aperture libraries, I have a 1TB RAID housed in a Guardian MAXimus box hooked up to the iMac via FireWire 800. I also have a set of Western Digital 750GB 'My Book' drives that are used for rotating backups. When one is at home, the other is locked up at work.
I type on an Apple Extended II keyboard hooked to the iMac via a Griffin iMate ADB-USB adaptor. The Extended II is the best keyboard Apple ever shipped, and with a little utility called Keyboard Maestro, I have the function keys mapped like on Apple's new chiclet keyboards.
My wife hates that keyboard.
The SoundSticks were a gift from a client, and while they're old (and take up a USB port), the sound is fantastic — way better than the built-in speakers on the iMac. And boy, can that sub rumble.
The desk was a gift from my wife's uncle. It weighs like 200 pounds and is ugly as sin, but I love it. Interestingly, it has an AT&T inventory tag on it, dated 1991. It's probably stolen property.
3. Why are you using this setup?
The MacBook Pro is just perfect for what I do for a living. In any given day, I'm sitting at my desk, slaving over the repair bench or stuffed into someone's server closet fixing a sick Xserve — usually all three by lunchtime. The 13-inch MacBook Pro is small and powerful, and the battery life is fantastic. And with FireWire 800, it really is a professional machine. You can't get a better notebook for $1200. Period.
On the home front, I opted the 24-inch iMac for a couple of reasons. I wanted a powerful machine without having to spend the money for a Mac Pro. With it's 2.93Ghz Core2Duo processor and NVIDIA GeForce GT 120, this machine cuts through Aperture and the CS 4 apps like butter. I never find myself wishing I had opted for the tower.
My wife and I don't own a television, but with the 24-inch model, we can watch anything we want to on the iMac easily. Between Hulu, Netflix and iTunes, anyone can go without a television. Try it. Your brain will thank you later.
The RAID allows me to store my iTunes and Aperture libraries in a way I know they are safe (even though that box is backed up offsite as well). I also use the RAID to store all of the various software installers and images I've collected over my years as a Mac technician. I mean, I never know when I'll need to burn a copy of the OS 8.5 install disc.
I've got the army of backup hard drives because you can't be too careful with data. Especially if that data includes baby photos.
4. What software do you use on a daily basis, and for what do you use it?
Here's a brief list, excluding the built-in apps like Mail, iChat and Safari:
Lightspeed to track service tickets and repairs at work.
MarsEdit for blogging, as it's far superior in every way than WordPress' web interface. Likewise, I am in love with Tweetie.
Aperture for my photography work. I tried Lightroom, and just couldn't get used to it.
I use MobileMe to keep data between the two machines and my iPhone in sync. After trying to live without it, I simply can't. I use Dropbox instead of MobileMe's iDisk, however, because it's more reliable and much faster.
Under it all, I'm running Snow Leopard. I live on the edge because my customers do.
5. Do you own any other Mac gear?
I have a 16 GB white iPhone 3GS, a 2nd generation iPod Shuffle and a 3rd generation 40GB iPod. The 3GS is the best iPhone yet, and I went with white this time around just to mix it up, and man, it looks good. I rock the old iPod in my truck. I don't need videos while driving, so why have a newer model? Plus, carrying an old iPod has done great things for my street cred. I think.
I've got an Airport Extreme – the first box-style one, before the Gigabit Ethernet model – and an Airport Express hooked up at home. They're great, and have never given me any trouble.
I've got a pile of old machines as well: a couple of Mac SEs, an iMac G3, a Clamshell iBook and a Pismo. The Pismo is my favorite of my older machines. It was a great notebook and runs Tiger pretty well.
6. Do you have any future upgrades planned?
At this point, I'm running current hardware all over the place. Due to my ever-expanding media collection, that 1TB RAID is going to be full by the end of the year, so I'll need to address that soon — probably in the form of a Christmas present to myself.
More Sweet Setups
Stephen's setup is just one in a series of sweet Mac Setups.