Ian P. Hines is a 23-year old technology geek and Baltimore Enthusiast. In the daylight hours he's a Neighborhood Liaison in the Office of the Mayor of Baltimore, MD, but by night he'll likely be found coding, scripting, and tweeting away. In September he'll be having his first child, a boy. He's been blogging since 2003.
Ian's Setup:
1. What does your desk look like?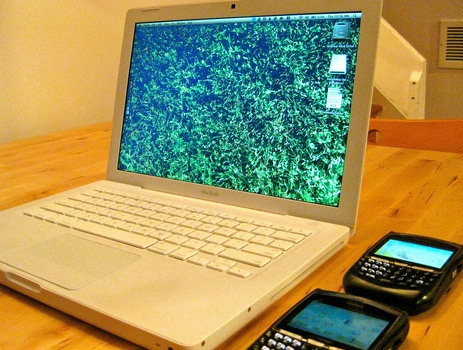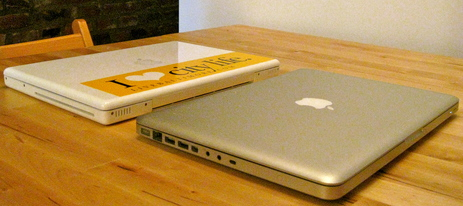 2. What is your current Mac setup?
I'm currently using a 13″ MacBook (White), circa early 2009, as my sole computer. I kept it basic – 2 GHz Intel Cor Duo, 2 GB 667 MHz DDR2 SDRAM – as an exercise in relative minimalism, despite my inner geek urging me to go with the Pro. Backups are done via BackBlaze, which continuously syncs changed whenever I'm connected to WiFi.
When I'm on-the-go, which is most of the day, I'm stuck with (and I mean that) my BlackBerry 8703e(s) (I have two, one for work and one for personal use), courtesy of a two-year Verizon contract. Lets be clear: older BlackBerrys are terrible for anything except email. Period. The newer ones (I'm looking at you, Tour!) might… just might… be up to snuff, but I'm not holding my breath.
The personal BlackBerry isn't going to be around for too much longer, as it seems to be feuding with my Mac. They aren't talking at all, and I just can't have that sort of tension in my life. But more on that in a bit…
3. Why are you using this setup?
I can't say enough about how much I love the simplicity of this setup (sans BlackBerry).
A few years back, when my first ever laptop died, I made the decision to switch back to a tower. What an awful idea that was. One of the best parts of living in a city is all the great free WiFi (with associated coffee!), and having a desktop meant that I couldn't bring my work with me. I was desk-bound, and experience has taught me that that just doesn't work for me.
Now, with the baby on the way, I've taken up the challenge of dramatically reducing the amount of excess furniture in the house; the desk space was among the first things to go. These days it's just me, my MacBook, and the couch. Or the chair. Or the coffee shop. That's the thing… I work where I want and I love having that flexibility. I've found that the freedom to change my scenery has really helped me creatively, and I think that's been reflected in my fresh approach to the web over the past several months.
4. What software do you use on a daily basis, and for what do you use it?
I've taken to using Spaces to keep my desktop strictly organized. I currently have twelve spaces, most of which are always active:
Space One is strictly for browsers. I'm a Safari 4 guy (a recent convert from Firefox 3).
Space Three houses NetNewsWire, though I think I'm about to catch a Fever.
Space Four is for the more formal correspondence, via Address Book & Mail.
Space Five is for the outsiders.
Space Six is the junk drawer, filled up with Stickies (galore?).
Space Seven runs iCal, which is used to access my Google CalDAV Calendars locally.
Space Eight runs iPhoto, and when I'm feeling particularly ambitious Lightroom.
Space Ten is where the magic happens, via Coda & Transmit (three cheers for the Panic Sale!).
Space Eleven is dedicated solely to Mint, because an app so beautiful deserves one all to itself.
And finally, Space Twelve for imaging with LittleSnapper & Photoshop CS 4.
In the background you'll find these standbys: BackBlaze, Caffeine, Google Quick Search, & Growl.
5. Do you own any other Mac gear?
Sadly, no. My wife, however, is running a late-2008 unibody MacBook 13″, which replaced the white MacBook that we lost in a burglary last September. But I personally have been without any Mac peripherals since my fourth generation iPod finally died in 2007.
6. Do you have any future upgrades planned?
Considering I'm currently running my mobile web on the antiquated 8703e (thanks, Verizon!), an iPhone 3GS is looking pretty good right about now. My Verizon contract expires in November, though if the rumors of a Q1 Verizon iPhone are true that won't really matter.
I also plan on adding a 500 GB Passport Hard Drive for photo storage, as I prefer to keep the internal drive pretty clutter free.
More Sweet Setups
Ian's setup is just one in a series of sweet Mac Setups.