Sebastiaan de With specializes in icon and visual interface design, teaches people how to design icons, makes sweet t-shrits, and, most importantly, is a genuinely quality guy.
Sebastiaan's Setup:
1. What does your desk look like?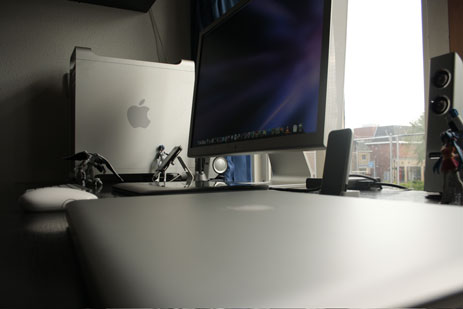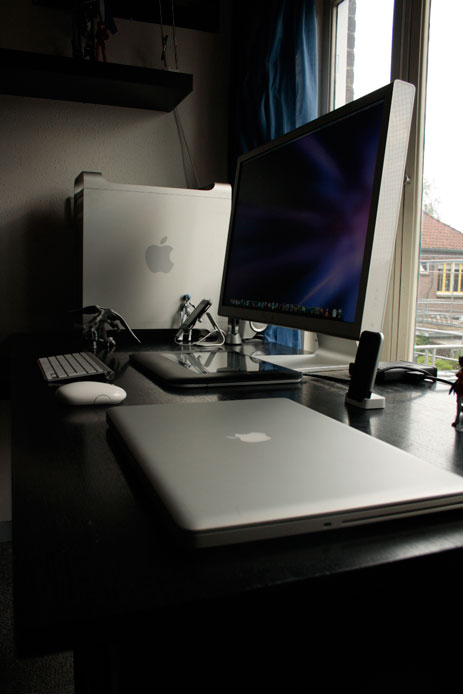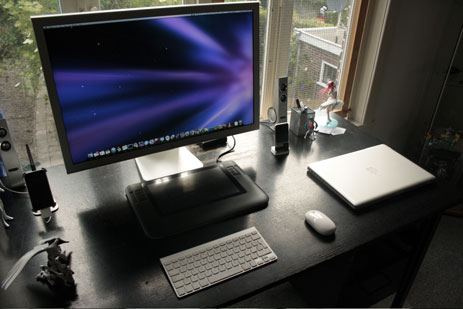 2. What is your current Mac setup?
I'm currently using a Mac Pro as my primary workstation, with a 30″ Apple Cinema Display and Wacom Cintiq 12WX attached. I use the Cintiq for occasional drawing, sketching, and signing off paperwork, but as a very 'posable' secondary display it's also quite useful. My desktop hardware is always surrounded by figures and models.
I was using an old first-generation MacBook Pro as my first Mac and out of the office: it used to be a real pain as it has almost completely broke down. The first run of the MacBook Pro was pretty unreliable, and my first unit literally melted. I very happy to have obtained a new laptop during my week in San Francisco at WWDC, the 17″ Macbook Pro.
3. Why are you using this setup?
I got a Mac Pro after saving up enough money because I realized how severely limiting my laptop was. I often found myself back tapping on the laptop case as it was performing some sort of Photoshop operation and being annoyed at the heat it made during operation. It was fantastic to go to a workstation with such raw power, and being able to pick my own display and swap out hardware was a huge plus for me. I never regretted that, as I've expanded its graphics, RAM, and storage abilities quite a few times since I got it.
The Cintiq was a hard choice, but very much worth it. I wanted to get back into artistic and 'freestyle' art a bit more, and it has really helped.
The 17″ MacBook Pro had been on my wishlist since the unibodies got shown off. The screen simply blows my 30″ Cinema Display out of the water, it's quite light for its size, and extremely fast. As a plus side, the battery easily lasts for 8 hours. The latest update just adds more beefy specs, and I enjoy still having the ExpressCard slot; I may be that single digit percentage of the Mac userbase that finds those extremely useful for 3G hardware (I'd like to keep my USB ports available, thanks), network adaptors, eSATA, and more.
4. What software do you use on a daily basis, and for what do you use it?
I'd say my top 10 of apps is Photoshop CS4, Mail, Safari 4, NetNewsWire, Billings, iPhoto, LittleSnapper, iChat, Tweetie, and Quicktime.
I do all my work, without exception, in Photoshop, so it is almost always open. I get a big pile of email each day, so I have Mail open without exception (it starts when I log in). I do all my blog posting, half my tweeting, and most of my reading in Safari 4. I have almost 300 news sources in NetNewsWire, but they're never a distraction. I consider it a part of my work to stay on top of everything that's happening in my professional world. I do all my business work like invoicing, time tracking, and project estimation in Billings.
The rest sort of speak for themselves; I take a lot of photos, I use LittleSnapper with a huge gallery of icon and UI inspiration, keep in touch with iChat and Tweetie and watch videos with Quicktime + Perian.
5. Do you own any other Mac gear?
Naturally. I have a third-generation iPod 40 GB (still works!) which I saved up for by working as a dishwasher back in my younger years and serves as a testament to doing hard work to attain beautiful design, an iPod nano (second-generation), a first-generation iPhone and an iPhone 3G. I used to have three iPhones in total; since I live in the Netherlands, I had to buy them off eBay before the iPhone 3G came around. One broke, and I got a new one. The broken iPhone was later replaced in the US by Apple for a completely new unit, so I sold off my spare iPhone to my mom. True story.
I keep the iPhones in xStands: nice, aluminium Cinema Display foot-style holders for iPhones.
6. Do you have any future upgrades planned?
I keep hoping for a 30″ LED Cinema Display. The iPhone 3G S will be a sure buy later this year, considering how I'd like to test its color profile and specs for software I am making for iPhone and iPhone design / development. I won't be bothered with supporting my local carrier, though: T-Mobile in the Netherlands is as bad as AT&T, and has no plans to support tethering or make attractive plans. I'll be buying the iPhone 3G S in Belgium, without a SIM-lock and without a contract.
Accessory-wise, I'd like the mStand for my laptop. It's a nice stand, similar to the xStand and Cinema Display foot I already have. It's quite pricy, though.
More Sweet Setups
Sebastiaan's setup is just one in a series of Sweet Mac Setups.