Kicking off the first of the reader's setups is Kevin Rodgers. Kevin is a Senior Systems Engineer for a K-12 public school district in New Jersey. Computers are his forté.
Kevin's Setup:
1. What does your setup look like?
Home: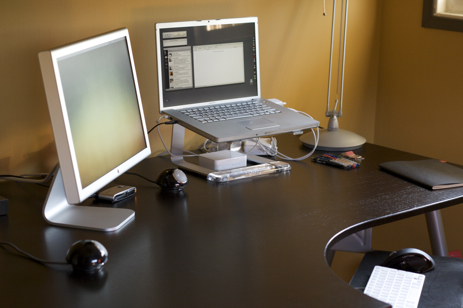 Work: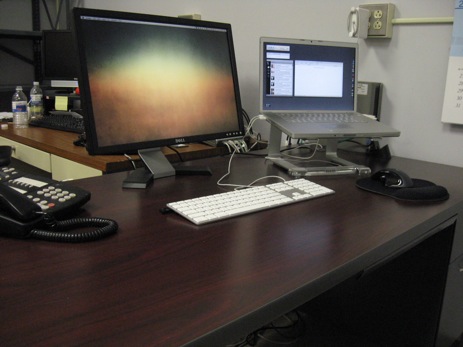 2. What is your current Mac setup?
A 15″ 2.16 GHz Intel Core 2 Duo MacBook Pro with 2 GB of RAM that I purchased in March 2007. I use it at home and at work.
At home, I connect to a 20″ Apple Cinema Display (ACD), a LaCie 250 GB External FireWire drive, and JBL Spot speakers. The external display at work is a 22″ Dell E228WFP that has the same resolution as the ACD.
In each location, I have an Apple wired keyboard, a Logitech MX Revolution mouse, and a Griffin Elevator desktop stand. A pair of Sony MDR-EX85LP headphones drown out the ambient noises at the office and help me focus on my work.
3. Why are you using this setup?
OS X is the finest operating system I've ever used, and the MacBook Pro is powerful enough for everything I need to do. Using the same computer for both home and work means I only have to buy one copy of the applications I use and also negates synchronization problems. I've read how people attempt to keep multiple computers in synch, but for me this is a non-issue.
With the laptop situated to the right of an external display, I run all my communication apps on the MacBook Pro's screen. It's far enough to the side to not be distracting and close enough for glancing at new items.
4. What software do you use on a daily basis, and for what do you use it?
OS X Mail: I have three email accounts setup: one Mobile Me and two Gmail.
Microsoft Entourage 2008: I currently use Entourage to connect to our Exchange Server, but will move to OS X Mail on Snow Leopard when it comes out. I've tried using Leopard's Mail for sending and receiving messages, but things got tricky with meeting requests, so I went back to Entourage.
iCal: I have Entourage synching with iCal so all my work and personal appointments are available. I also use it to track when my bills are due.
Adium: I like Adium for instant messaging primarily for the border-less window appearance.
1Password: Working in the IT field means I have a lot passwords to track (currently over 130). For a while, I was storing them in Yojimbo, but the amount of steps required to access them was slowing me down. 1Password takes care of that with its browser integration and one-click copy button.
Terminal: I use the Terminal quite a bit for network troubleshooting. Ping, dig, host, and traceroute are some of the most often used utilities. I also use it to connect to network devices and servers over SSH. The display is currently set to 13 pt. white Anonymous Pro (no antialias) on a black background.
Things: By far, my favorite application for keeping track of all my work and home projects and tasks.
Yojimbo: This is where I store software serial numbers and license codes, bookmarks for KB articles, quotes from vendors, and web receipts. After I purchase something online, I use the Save PDF to Yojimbo feature to save the confirmation page.
TextExpander: I use this for expanding email signatures, some canned email responses, and a few Terminal commands. So far, it has saved me from typing over 200,000 characters.
Google Quick Search Box: For application launching, queuing iTunes music, and showing contact phone numbers in large type.
SuperDuper!: I let Time Machine handle regular backups and supplement it with full HD clones from SuperDuper! On average, I remember to execute the backup about 3-4 times a week. OK, more like 2-3 times a week.
Remote Desktop Connection Client 2: Part of my job is working with Windows Servers. The RDC client works perfectly for connecting to them.
5. Do you own any other Mac gear?
I have an 802.11g Airport Express and four iPods:
1st generation blue 4GB iPod mini: For the iHome alarm clock
40GB iPod photo (also known as iPod with color display): For the car
2nd generation silver 1GB iPod Shuffle: For working out
1st generation 8GB iPod Touch: For the apps
6. Do you have any future upgrades planned?
I've had me eye on an Apple TV and might pick one up soon. I'll probably buy it from Apple's Refurbished items store. You get the same product with the same warranty at a cheaper price. Plus, all refurbished products are tested and certified by Apple. Something which cannot be stated for the brand new ones.
More Sweet Setups
Kevin's setup is just one in a series of Sweet Mac Setups.