NetNewsWire is arguably the most popular desktop feed reader on the planet.
That does not, however, mean that NetNewsWire is the most popular RSS reader, period. Far from it, actually. Web-based feed readers seem to be dominating the market share. (Worth noting is Greg Reinacker's article unraveling part of the mystery behind the growing domination of online feed readers.)
I wasn't able to find any cut and dry feed reader market share stats that were any more recent than the ones FeedBurner published two years ago. But based on various articles, conversations and website statistics it is pretty clear that online readers are the most popular feed reader. Specifically Google Reader. Just look at your own site's stats, and I'm sure they'll concur. (For the most part.)
According to the stats for ShawnBlanc.net, 75% of readers are subscribed to my feed through an online reader. Of that total online readership Google takes up 49%, NewsGator 26%, Apple RSS (various) takes 8%, Firefox Live Bookmarks takes 5%, Bloglines 4%, and various other online readers add up to the final 8%. (With 1% too much because I rounded up.)
The remaing 25% of my subscribers are using desktop feed readers. With NetNewsWire accounting for over 50% of my desktop reader's market share, or 13% of the total market share for ShawnBlanc.net
In addition to being the most popular desktop feed reader for ShawnBlanc.net, NetNewsWire's built in browser is the fourth most used browser for viewing this site. Right after Safari, Firefox and IE.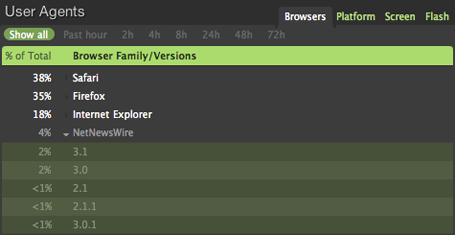 Web-Based Feed Readers
My intention here is not to sway 75% of my readers away from your online feed readers. I am aware that there are many reasons you may use an online reader. Such as:
Nothing to Download and Install: If you're reading feeds on not-your-computer on a regular basis this is a convenient feature indeed.
Universal Uniformity and Syncronization: Your reader looks the same and acts the same and is always just how you left it no matter what computer you access it from.This can be very helpful (or very un-pet-peevish) if you work in a cubicle on a windows machine and then come home to a Mac.

The advantages of having your feeds synced between multiple computers can be huge. And if you're reading feeds on multiple platforms an online feed reader is pretty much the only option.

UPDATE: Tom from Evolvepoint mentions that NetNewsWire syncs with the complete NewsGator RSS suite which includes the PC application, FeedDemon. I don't use a PC so I hadn't even considered FeedDemon.

Free: Online feed readers are free feed readers. That's always nice.The draw of using a free feed reader is a big one. Especially if that free reader is powerful enough to handle all your feed needs and leave you with a smile at the end of the day. But in my experience I've noticed two major drawbacks to using free readers: First off is the interface. No offense, but Google reader is not very exciting to look at. And secondly, many of the free desktop readers I've tried out are sorely lacking in usability, options and developer support.
If you're using a web-based feed reader because it's free, you need to take a look at the upcoming release of NetNewsWire Lite 3.1 (the free version of NNW), because those who refuse to pay for their feed reader are in for a real treat. But more on that in a minute.
Getting The Perfect Gift
Giving someone the perfect gift is not easy. Tons of clueless husbands have botched it up anniversary after anniversary. Countless grandparents have resorted to just giving away cash at Christmas. And why do you suppose the gift card is so darn popular?
My uncle, on the other hand, is a superb gift giver. Every year at Christmas he finds the thing you never knew existed, and most certainly never would have asked for. And when you unwrap it, you realize it's exactly what you wanted.
Discovering the perfect program is quite a bit like receiving the perfect gift.
But it's not easy to find a piece of software that is exactly what we want, when we ourselves often don't know exactly what it is we want.
Sometimes we find it on accident. Sometimes we find it on a hunt for an unknown solution to a problem. Usually we find it by a random combination of both…
Sunday Morning
For me, it started a few years ago on a Sunday morning while I was at church.
My church has wireless internet, which is ideal for downloading the Sunday morning notes. It is also ideal for checking email and reading blogs when I'm supposed to be listening.
Let me back-track a bit…
This would be quiet a different story if I had not been introduced to personal blogs only a few months prior.
Additionally, if it had not been for the illustrious blogroll which inhabited every sidebar, I never would have been introduced to the lives of other people whom I'd never met and who barely knew how to put a sentence together. Within a few short months of reading sites and following sidebar links I had compiled (within a bookmarks folder) well over 15 different blogs!
To keep up with these sites I would open my bookmarks folder about three or four times a week and visit each blog one at a time as I casually checked up on the latest story.
Visiting each site one at a time is more personal and relaxing for sure. But it didn't take long for my list of 15 sites to grow into the low-twenties. As I began checking in daily, the task of keeping up became more and more tedious. Eventually my reading time turned into Russian Roulette – Blog Style. Keeping up with the new articles was quickly becoming less and less fun. I needed a way to know what sites had new content so I could spend my time reading instead of looking. I needed an RSS reader. And I didn't even know it.
This brings us back to the Sunday morning in which I casually glanced over at my friend's PowerBook. He had his feeds pulled up in Safari's feed reader.
"What in the world?!" I thought.
He was reading news headlines and articles from all sorts of different websites, and they were all put together neatly into one window. Incredible. I didn't know exactly what I was seeing but I instantly recognized its potential to solve my problem. By the end of the sermon I had subscribe to all my favorite blog's feeds using Safari and the church's wireless.
But let's be honest. Anyone using Safari's RSS reader as a serious point of entry for information will quickly discover that it doesn't cut it. And just as Brian had predicted, the Safari RSS reader contributed to the sale of a dedicated feed reader. Because within a week I was already looking for something better.
It wasn't until after I fumbled around with a few not-so-great readers that I came accross Brent Simmon's smash hit RSS reader, NetNewsWire.
I first jumped on board with NetNewsWire Lite 2.1, and I used it for several months until Brent and Ranchero released the 3.0 full version. I downloaded the free trial and was blown away once again. Seriously. The interface, the layout, the simplicity. Everything. I was hooked, and my wallet was 29 dollars lighter.
NetNewsWire has changed my expectation for Mac application development. I'm not a programmer, but Brent and his Eddy Award winning program have been an onramp for me to learn more about the indie Mac Development community, and that is why I'm so fond of this application. NNW has become a marker to me for when my eyes were opened to the many heroes of the Mac community who create amazing software and make our OS X lives that much better.
NetNewsWire
What makes NetNewsWire so great is that it at once appeals to every level of user.
For the basic user who checks a few feeds once a day, NNW provides a familiar and friendly environment. For an average user who has several dozen feeds to keep up on, NNW is quick and effective. And even the power user, who lives and breaths inside their feed reader, will discover that NNW has the horsepower to feed their need for feeds.
From the NNW homepage, Cory Doctorow says, "This is the app that lets me drink straight from the Internet firehose, and I couldn't live without it."
At its initial launch, NNW was already in a class of its own. Brent patterned the traditional 3 panel layout after common email layouts, like Mailsmith, Outlook and Apple Mail. The general look and feel of NetNewsWire has been consistent ever since version 1, but it has certainly received a good spit and polish over the years.
Have a look…
Version 1.03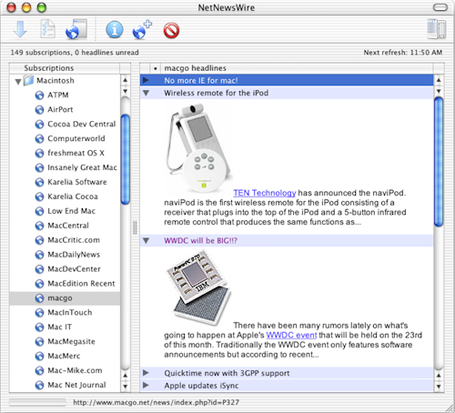 Version 2.0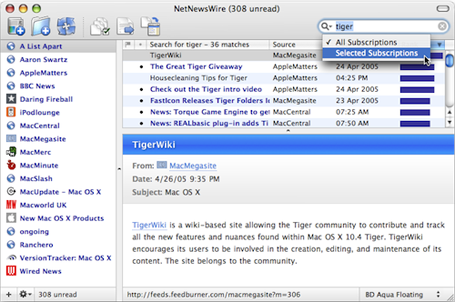 Version 3.0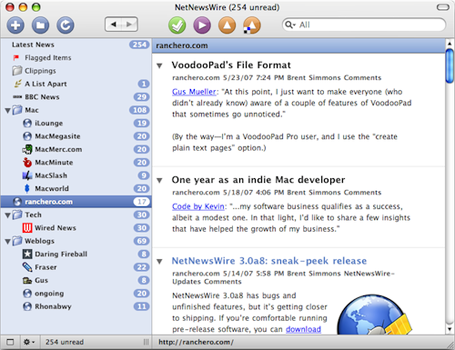 Version 3.1beta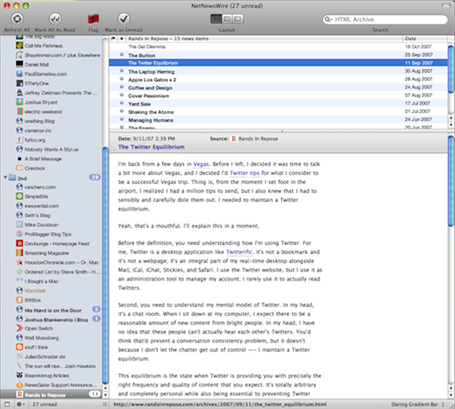 As of this writing wersion 3.1 is in the final beta stages of development. And even though it's not a major x.0 release, Brent sure is treating it like one. (I suppose largely because of the upcoming release of NetNewsWire 3.1 Lite (the next big upgrade for the free Lite version which is currently still at 2.1.1.), and the software updates for compatibility with Leopard.)
When version 3.1 (Full and Lite) does come out of beta I imagine nearly every user will upgrade. Either to the for-pay version (3.1 Full) or the freeware version (3.1 Lite).
For those already using the 3.0 Full version the most obvious changes they'll see in 3.1 are visual: The new toolbar icons and the Leopard style folders in the subscription list and site drawer.


Those who upgrade from 2.1.1 Lite to 3.1 Lite will discover much more than just spectacular visual changes.
I'm taking a complete shot in the dark, but my guess is that the number of NNW Lite users is more than double the amount of NNW Full users. Meaning that the vast majority of those who upgrade to 3.1 (Lite or Full) in the near future will be upgrading from 2.1.1 Lite or switching from another reader. Meaning a lot of people are all in for a real treat.
Top to bottom, NetNewsWire 3.1 Lite is primed to be the best, free news-reader available for Mac.
A Few of My Favorite Things
The majority of the strong, underlying features available in the current full version will also be available in the new Lite version. Just because it's a free news-reader doesn't mean it's a wuss. Quite the opposite, in fact.
Here are a few of my favorite features that will be a part of the new NetNewsWire 3.1 Lite.
Syncing: I have a Mac Pro in my home office, a PowerBook that I use out of the office and on the road, and an iPhone that I use, well, all the stinkin' time. NewsGator's online feed reader syncs all the feeds and their groups, across Macs and on the iPhone NewsGator web app. All three locations are always in sync. Everyone together now: "Ahhhhhh…"Syncing via NewsGator is not your only option. You can also sync with .Mac or your own FTP server.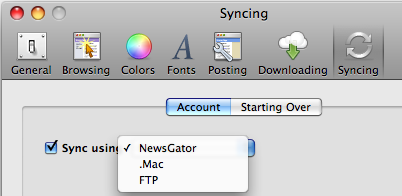 Spacebar: Similar to the "J" in Google Reader is the spacebar in NNW. You use the spacebar to take you to the next unread article and then to page down through the content of that article. If you start at the top of your feeds and hit nothing but the space bar you will work your way all the way down. Voila!I didn't even know this feature existed until Brent listed it as his favorite in our interview. Although it's not my favorite, the feedback I've heard from other's tells me it's popular.
The Way the Arrow Keys Work in The Traditional Layout: NetNewsWire's traditional layout is similar to the layout of most email applications. The sites list is in the left hand window, the headlines are shown in the top right window, and the article content is displayed in the bottom right window. This is the layout I use because I read my articles by site, not as a compiled list of headlines.When using the traditional view, one thing I love is the way the arrow keys work. Using the arrow keys you can navigate anywhere you want. From the subscription list to the headlines, down the headlines to an article. Back to the list and so on and so forth. I don't know how many times I've tried to do the same thing in Apple Mail only to get the error dong noise.
The Animated Arrow-Out to Permalinks: Sometimes it's the little things.As odd as it sounds this was the main reason I bought NNW 3.0. I don't read websites in the feed reader. I use NNW only for checking up on new content. When an article shows up that I want to read I "arrow out" to the website and read it there.

I like the animated arrow-out for two reasons:

It gives a visual response to the action of leaving the headline and going to the article. Since I have web-pages open up in the background in Safari it's great to have that visual feedback.
It's very un-selfish. The whole structure of NNW is designed to serve the user and give them exactly what they want without making them feel as if they're using it for something it wasn't specifically intended for.

This is most likely exactly the type of feeling Brent was looking to develop with his software.

In Brent's interview with John Gruber in 2005, John asked if Brent had ever considered limiting the number of subscriptions in the Lite version of NNW. Brent's reply:

For maybe one second. I hate limits like that. It's one thing to not have an entire feature like the Weblog Editor, but quite another thing to arbitrarily limit the number of subscriptions. Doing that would, in my mind, make the Lite version no more than an advertisement for the Pro version.

The animated arrow is a positive, visual feedback given when leaving the application. And even though it's just a small element when compared to the whole program, it is a dynamic statement of the way NNW is built: to serve the user.

The New Toolbar Icons: In previous versions, the toolbar icons were designed by Bryan Bell and John Hicks.But Bobby Anderson designed the new icons for version 3.1 and I think he did a fantastic job. They're much cleaner and less clunky.

And simply by looking at the new "Refresh All" button and comparing it to version 2's, you can see that Mr. Anderson did his homework.

Rands' First Law of Information Management Which reads: "For each new piece of information you track, there is an equally old and useless piece of information you must throw away." (via)By continually adding new feeds to your subscription list, you'll eventually reach such a point of information overload that you end up losing the very purpose for which you first began reading websites. (That is of course, unless you want to simply scan the headlines of hundreds and hundreds of articles, in which case you must be very happy about the space bar feature.)

Eventually you have to get rid of some feeds. I clean my subscriptions out every few months. NetNewsWire has made it more than easy. Click on "Window" > "Feed Reports" > "Dinosaurs" / "Most Attention" / "Least Attention" / "Bandwith Usage".

The Dinosaurs report tells you who hasn't updated in 30 days, the Attention report lets you know what sites you give the most attention to and what sites you give the least attention to. Bandwidth report tells you which feeds are the bulkiest.

The Sites Drawer: Click on "View" > "Show Sites Drawer" and you have access to hundreds of sites. Chances are pretty good that several of the sites you're already reading are in the drawer.
The Pay-For Full Version
NetNewsWire Lite is a fantastic app, and I have no doubt that many people will see no need to pay for the full version. Before I met Brent, I knew very little about the Apple indie developers community and even less about the time and energy they put into their software. But now I'm sure that supporting great software and the people who make it is a worthy cause.
If you want more than just a worthy cause, here are a few of the extra features you'll find in the Full version of NetNewsWire.
Flagging: You can flag items and they stay in the reader forever. I use this all the time to highlight articles that I want to come back to for reference.
Tabbed Browswer: You can open web pages directly in NetNewsWire. And these tabs save themselves even if you close NNW. This is great for opening an article's homepage within NNW, but coming back to read it later.
Interface Options: The widescreen, three-column view and the combined view. I prefer to use the traditional.
Search: You can search the feeds within NetNewsWire, you can search on Google, Google Images, and more. Including the new HTML Archive.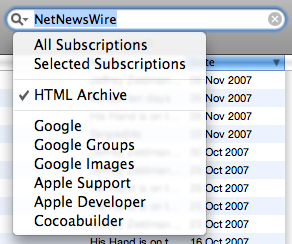 HTML Archiving: This is one of the new features in the Full version that I suspect most people will not notice, or simply skip over when they upgrade.In previous versions you could only keep articles long-term if you flagged them, and you could only search feeds that were currently cached in NNW. But that is no longer the case.

From the NNW Beta page Release Notes –

NetNewsWire can now store news items on disk as separate HTML files. The idea is to give people a way to archive and save stuff without having to keep it in NetNewsWire.

The fewer news items in NetNewsWire's storage, the better it performs. This feature is designed to give you a way to keep an archive without having it hurt NetNewsWire's performance.

The obvious benefit of the HTML archive is that it's searchable because a local copy of every article is kept indefinitely on your hard drive. This is fantastic if you want to find something that was read several months ago, and you don't have internet access.

A potential issue is that the archive takes up its fair share of disc space. With just the feeds that were in my reader the archive folder weighs in at 12MB. And I don't even have that many subscriptions.
UPDATE: NetNewsWire is now free. You can download it here.
More Reviews
This is just one of a handful of winded and entertaining software reviews.