Before I left for Canada two weeks ago I began an article about my workspace. Literally entitled "The Elements of Style". A book that has put me to sleep on more than one occasion. Probably because I read it when I'm tired – not because it's borring. Interestingly enough I came back home to find two articles with the same title. I say this partly to qualify my title as original, and mostly to say that great minds think alike.
I have no intention to list the common elements in my design because, honestly, I don't think I could list 5.
Instead I want to share how I've set up my home office.
Having my office setup in a way that helps me relax, think and work has taken a while to figure out. My home office is my favorite room. It is so much more than just "where I work". It's my room. My wife gets the rest of the house – I get the office. And I'm content with this arrangement.
I think that when people work at a desk in an office all day every day they become very acute to how others set up their desk and manage their workspace. Especially when those working are designers, writers and developers – who by nature of their chosen profession greatly appreciate detail and excellence.
For the first 21 years of my life I can count on one hand the times I had a clean room and a clean desk for longer than a week. My room was always dirty growing up and through college. Even when I finally would clean I wasn't actually cleaning. I was more or less stuffing things into drawers and under the bed. (I know you know what I'm talking about.)
But over the years I've changed and now there are few things that delight me as much as a tidy room. So after several years of saving and thinking I finally transformed my home office into a place I look forward to spending time in. A new computer. New desk. New floors. New paint. And a great big new smile when I walk in the door.
And now to the point … there are three main elements that make up the personality of my office and the style of my workspace –
A Working Inbox/File System and a Place for Everything
A Clean Desk
A Good Computer
A Place For Everything
They say with a good filing system you should be able to find any piece of paper within 10 seconds. I doubt that. But I'm confident I can find something within 2 minutes.
It's not just paper that needs a place to go – everything does. and that is surely the reason things pile up and don't get dealt with. Back when I didn't know where to put things they ended up just anywhere. I was too indecisive to just put a system in place. But no siree. Not anymore. A few years ago I realized it was time to just put things somewhere and keep to the pattern. It was easier than I thought and makes all the difference in the whole world to keeping a clean work space.
For me, finding a place for everything to be kept was basically a "I guess I'll do it like this" decision. But then comes the follow through. It takes about an extra minute or two when I come home and an extra minute or two at the end of my day to make sure everything has been put away. That is very little effort I think for the huge benefit of having things out of the way and in a location that I can find them easily. And it sure beats the things-are-so-dirty-I'm-about-to-pull-my-hair-out-so-now-I'm-putting-everything-on-hold-until-I-clean-this-ginormous-mess approach.
For filing incoming papers and mail and receipts I have three inboxes above my desk. The top one is for urgent paperwork – such as bills, letters to read, and the like. Second is an inbox for not-so-urgent paperwork, and the third is a temporary storage space for current design projects I'm working on.
(See crummy picture below.)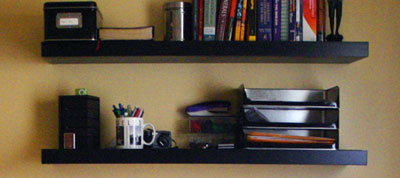 A Clean Desk
This is the desk I had pictured in my mind all along but never knew existed. I seriously (though not literally) stumbled into it at IKEA when I was visiting Minneapolis one weekend.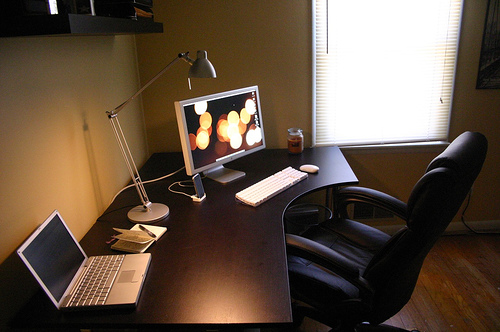 What I absolutely love about this desk is the way it's laid out. With the corner spot to hold my monitor and keyboard there is a nice empty work space on the left for me to read, write or use my PowerBook. With my old desk I had to move the keyboard and mouse over and out of the way to have space to work on anything else. Now I just swivel to the left.
Keeping my desk clean and free from clutter is a must. I have an extremely difficult time concentrating when there is unnecessary paperwork sitting around. And by keeping a clean desk it's always ready for big projects that need to be spread out.
A Good Computer
Buying the Mac Pro as my primary work machine was a fantastic decision. Not only does this machine blow every computer I've ever used right out of the water, but it makes my time on the clock so much more productive. I spend about one third the time waiting on the beach ball as I used to.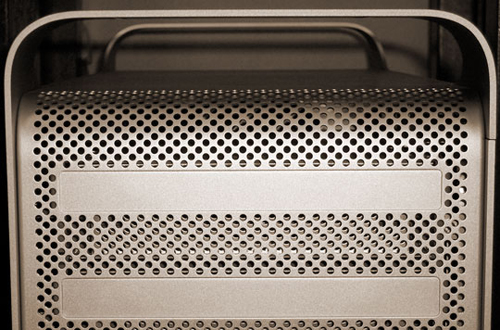 And the 23″ Apple Cinema Display is awesome. In a cluttered office I could have gotten by with a cheaper, less beautiful monitor because it would have blended right in with the other random items. But on a clean desk the ACD looks amazing. Worth every penny. And we all know that a larger monitor means better productivity…
[I wrote a much more comprehensive write-up on the Mac Pro back in July when I first got it.]
Miscellaneous
The Walls: This was my biggest decorating challenge. To each his own – and for me, finding the balance of artwork, shelving, and empty space was a massive task. Some people thought my wife did all the decorating, but no. It was me.

I think it came out pretty well. When first painting I was weary of the color. But my sister made a good point. She said a new color of paint is like a new haircut. You've got to look at it for a few days before you know if you like it or not. So I went ahead and painted and the color came out great. Warm enough to make the room feel comfortable. Light enough to make the room feel bigger. And neutral enough to not interfere with my design-work.

Something else I love are the dual wall-mounted shelves above my desk. I made sure to bolt them in there real good to avoid any renegade shelfs trying to body slam my monitor.

The only thing I would do differently is lower that top shelf by about 3 inches. I'm only 5'8″ and it's a bit too high of a reach for me to comfortably get things from up there.

Lighting: A room with good lighting is a good room.I have a window. A ceiling fan and a desk lamp. One of my favorite times to work in my office is at night with nothing but the desk lamp on. It's naturally inspiring for reading and writing.
Comic Book Collection: I was a pretty avid collector growing up. And I still keep them available in a wooden crate.