Glenn Wolsey writes a stellar web and technology weblog from Rotorua, New Zealand. He's 15 years old and is a fellow Mac Pro guru. In less than 12 months his site has made quite a name for itself and Glenn is becoming a recognized authority when it comes to content writing, blog creation, Apple products and software.
Additionally, Glenn recently began publishing a video blog, The Glenn Wolsey Show where he answers tech-related questions which are sent in from viewers. It's short, clever, and makes a great addition to anyone's podcast library.

SHAWN: You've talked a bit about freelance work on The Glenn Wolsey Show. How exactly did you get into doing freelance work at only 15 years old?
GLENN: I really had no certain point in time where I started freelancing, it gradually evolved into what Im doing today.I'm guessing the first point in me becoming a part time freelancer would be working for large media company Parkside Media in New Zealand on their publication Macguide. After I started that role with Parkside, other jobs started trickling in. Ranging from copy-writing for Mac software, to consultation work with people wanting to start their own corporate blogs.

Now, here I am today, freelancing part time both for myself and for others. On the personal side, I'm blogging a few times weekly at GlennWolsey.com, while trying to get a tech video online daily with my video show. On the corporate side, I'm blogging for a few sites, doing a little advertising sales for a few clients, and just signed a contract with Parkside Media last week to be the Editor of Macguide online.

SHAWN: How much of the freelance work you've done did you have to go hunting for and how much of it has come to you?
GLENN: I would say 80% of the freelance work I do has sought after me and landed straight into my inbox. I don't have enough time to take on extra projects, so I don't look for them. Most find me and I struggle to say no.
SHAWN: So is it primarily your time restraints that force you to turn down jobs or do you try to pick the ones that are more interesting and/or pay more?
GLENN: If there was another 12 hours in the day, I'd be able to take on so much more, so as it is, I'm just taking on projects I'm really interested in. No point in working on something I don't enjoy.
SHAWN: How much impact has glennwolsey.com had on the open doors you've had for freelance work?
GLENN: I would say it has opened huge doors in the terms of opening me up to freelance work. Without it, I don't believe I would have worked on as many exciting projects as I have with clients.
SHAWN: I assume that the majority of the work you're doing is writing and editing, correct? Do you think this could be a long term career for you? If so, what are you're hopes for what things may look like 5 years from now?
GLENN: Correct, 75% is straight out blogging and copy-writing. I've just signed a contract with Parkside Media as an employee, a large media company over this side of the world – I'm the new editor of publication Macguide (which is online now). Down the line I'd love to be able to mix my two loves together, photography and writing and turn them into a full time position.
SHAWN: I know right now you're doing your Desktop Fridays on glennwolsey.com, but other than that do you have any ideas floating around to incorporate photography with writing even more?
GLENN: I'm hoping to start blogging about Photography a little more in the near future, more along the lines of gear and then the actual more technical aspects of photography. I certainly have some ideas that I want to do with the blog, it's putting them into action which is the hard thing.
SHAWN: The pillar topics you've covered so far primarily regarding productivity, Apple and blogging have been excellent. I think photography would be an easy addition and I think you would do great at writing about it.Why do you say putting those ideas into action will be hard? I know when I have an idea or a new element I want to incorporate I usually think about it for a few days until I know what I want and then just go for it. Do you have a process when writing new posts or incorporating new elements/aspects of your site?
GLENN: Thanks! I certainly think I can spread my knowledge a little further if I start to blog about photography on a regular basis, incorporating it into my overall blogging spectrum on a more regular basis.Blog posts are easy, I write them, I look them over, I click publish. I try do this once every two days, my target it to post every single day in the future, but with all other work, every two days will have to do for now.

Putting ideas into action in the form of new site features are a little harder, especially since I write for my audience, not me specifically. I need each feature to be justified by my readership, I try to research deeply to see if the feature is going to add something to the site, or create clutter.

SHAWN: I think writing less versus more is definitely an acceptable standard for readers. A site that I like will have to go at least a month or two before I unsubscribe. I've still got Macintalk in my feed reader even though it's been almost two months since Andreas updated. In my opinion, writing a post every other day or two can actually build momentum and expectation.I don't know if I've ever seen a poll on your site. So what are some things you do to research your readership?
GLENN: I've previously made a couple of posts starting with the title "Reader Feedback." Along with those few posts, I typically use Twitter to poll friends on what they think of new ideas.I completely agree [about posting frequency], I don't want to be writing because I feel I have to each and every day, however some days I might get a few good ideas and feel like I need to write and have my say on more than one topic, it's not an unknown for me to write two pieces in a day on some occasions.
SHAWN: Let's talk a bit more about your freelance work. You have been hired by several people to help create and edit blog content, and you are now the editor for Macguide. What are some of the basic elements of quality online writing?
GLENN: Online writing is much easier than writing in the print format. Publishing is instantaneous, there are no huge publishing costs, and there are no strict word counts to keep to. I try to keep my writing brief and to the point, no one wants to sit down and read a 1500 word article when they can learn the exact same amount of information in 750 words. Keep it short, keep it blunt, keep it simple. Tell stories, use quotes, and entertain your reader with important stats & info.
SHAWN: I think that may be the answer and the problem to online writing. Because of the massive amount of information being produced on the web it is often a service to the reader to keep articles clear and succinct. But should that always be the case?What about the art of good writing and journalism?

I almost wonder if The Net has taught us we should write short and quick posts in order to cater to those who want to consume the most amount of information in the least amount of time, thus the nobility of a blogger writing something wonderful and captivating has been lost.

Obviously not all well written posts have to be long, but what do you think are some ways we can still serve the reader while honoring good writing?

GLENN: I think it really depends on your audience and overall topic.Tech-savvy readers reading blogs on topics such as the internet, technology, gadgets, photography, etc – are all after the shorter posts because there's so much going on and so much to keep up on in the respective industries. For some of the more 'boutique' topics, I believe it is worth getting more in-depth with writing as topics are less broad.
SHAWN: Do you write anything that isn't tech savvy?
GLENN: Nothing that gets published. As a student I have dozens of reports to write each term, this is pretty much the only non-technical work I get into.
SHAWN: You recently began doing the Glenn Wolsey show. Do you feel that having an additional presence on the web has helped increase exposure for yourself and thus your services as a writer and editor?
GLENN: I think it has increased my exposure in a different industry in a form, which is something I've wanted to do for a while. I'm no longer 'just the blogger.' There's something else out there which is putting me in the field. I'm really enjoying producing the show, it's probably the most fun I've had with a project online in a fairly long time.
SHAWN: I enjoy the show, too. A lot of podcasts I'm subscribed to I rarely get the chance to listen to or watch because they're too long. I like that yours are usually under 5 minutes. It's just enough time to take a break and then get back to work.Do you have any plans for the show other than having fun, selling some ad space and increasing your exposure?
GLENN: Teaching people and getting the community really involved with the project as a whole. I've pretty much labeled the show in my mind as a 'community run show' because of the fact I pretty much am just answering technology questions sent into me by viewers.
SHAWN: Are you getting a good amount of response from the show? Are most of the emails from people that already read your blog or are you gaining a new audience? What emails make the cut? Have you gotten any that are totally off the wall?
GLENN: I am, I've mad dozens upon dozens of emails from viewers saying they enjoy the show, and more importantly, many requests which will take me months to fulfill. No totally off the wall emails yet, but I'm sure they'll be on the way.One email I keep getting is, "what are those lamps on your desk?" I'm almost sick of the question.
SHAWN: What are some questions you'll be answering in upcoming shows?
GLENN: My thoughts about .Mac, my general camera to computer workflow, where to get free WordPress themes, how to change icons on the Mac, and more all in the next 2 weeks.
SHAWN: And of course, the obligatory Glenn Wolsey question: Tell us about your Mac Setup.
GLENN: My current Mac setup includes a Mac Pro, and 30″ Apple Cinema Display.More specifically, the Mac Pro packs in these specs 2 x 2.66Ghz, 3GB RAM, 250GB + 500GB HDD. Alongside the 30″ Apple Cinema Display I'm running a 17″ Dell as a communications window, I'd love to change this for another Cinema Display down the line.

Powering my audio system is the Altec Lansing FX6021 speakers, and I also own a handful of various iPods.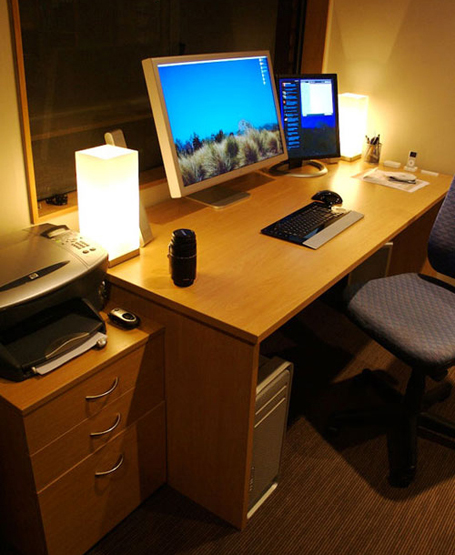 More Interviews
Glenn's is just one of a handful of interviews with some cool folks.